Two weeks ago I asked people with six-figure salaries to share their stories. There was a great response, and I wanted to both summarize and add to the discussion some more.
$100,000 Isn't That Much… Is It?
Many people expressed that $100,000 is simply not very much money anymore, especially in certain urban areas like the San Francisco Bay Area. I went out to find some numbers to back this up.
Initially, I quoted a study that stated that only about 5% of individuals in the United States made more than $100,000. But if you take into account entire households instead, 16% of them nationwide earn over $100,000. However, in the San Francisco Bay Area almost twice as many households (31%) made that much. Here is a graph from Wikipedia that compares the income distribution among Bay Area households to the national level.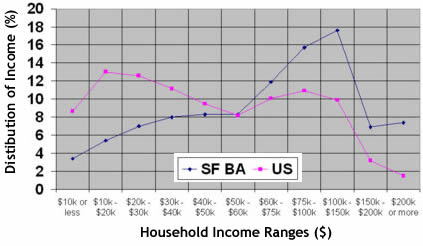 Having almost a third of households over the $100k mark would definitely skew perceptions. This is supported by the CNN Cost of Living Calculator, which says that earning $100,000 in Atlanta is comparable to earning $172,000 in San Francisco. Put another way, earning $100,000 in San Francisco is comparable to earning $58,000 in Atlanta.
That's a bigger difference than I thought. Still, remember that the 16% and 31% figures are household figures. Also, the majority of the people that I know who work in San Francisco don't own houses there. In the end, while making $100,000 as an individual may not be considered "rich" in certain areas, there is still no way it can be considered "poor".
Who's Making Six Figures?
Based on the completely unscientific comments, I made a chart showing the the breakdown of six-figure earners by job description. The categories were all very general, and some were very tough to pigeonhole. For example, what is a self-employed software project manager? Tech? Small Biz? Management?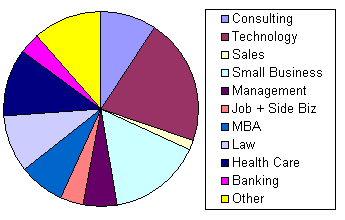 What does this chart show? Really, not much with regards to specific professions. My two takeaways were that (1) there is a very wide variety of jobs that can make a healthy salary, and (2) you need a useful skillset and effort. Nobody responded that they simply moved papers back and forth, or that they coasted into their position. Everyone needed some combination of talent, passion, ingenuity, education, and hard work to get to where they are now.
Who Cares?
Really, this is not to suggest that making $100,000, or $200,000, or whatever, should the primary goal for anybody. As with many things, it is about balance. Many folks noted that they used to make more money, but now make less but are happier overall. Others noted the high debt levels and long education (and thus missed salary) that come with certain professional careers.
Also, we didn't focus on the total compensation package, including health insurance, stock options, pension benefits, or other perks. I know plenty of lower-paid state workers that have enough years under their belts to get both guaranteed pensions and health insurance during their entire retirement. Think of how much that will be worth! This was mainly an exercise in curiosity, and I'm glad I did it.
Finally, it's not how much you earn, but how much you keep.