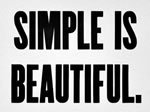 Dan Kadlec of Time magazine offers up 9 Ways to Simplify Your Finances. I always swing back and forth, wanting a nice simple financial life one day, and the next day itching to try out all the cool new financial tools out there. I tend to split up my accounts into "core" and "explore". The "core" accounts hold the vast majority of my money, while the "explore" accounts result from sign-up promotions and/or pure curiosity. Anyways, let's see how I did one the 9 ways listed:
Get down to one mutual fund. The article recommends target-date funds, which I think are fine if you go Vanguard, Fidelity Index, or maybe T. Rowe Price. Right now my portfolio holds 10 mutual funds/ETFs and some individual TIPS. If it weren't for different 401k providers, I could get down to about six.

I really don't feel these funds are very hard to manage though as I have my target asset allocation already determined and I simply rebalance with new funds and once a year otherwise.

Keep two credit cards. Fail. I go through a lot of credit cards. Right now I'm meeting the spending requirements on the Barclays Arrival Mastercard and the Chase Ink Plus. It's a profitable hobby, I tell myself.
Pay bills online. Stamps cost way too much to do it any other way. I charge what I can on credit cards, and the rest is done with online banking.
Choose one financial institution. Does this mean bank or brokerage? Probably both? Well, I have one local regional bank account and an Ally checking/savings combo as my core bank accounts. Vanguard and Fidelity are my core brokerage accounts. I guess another fail, but I am unwilling to give up features here for simplicity.
Automate everything. Direct deposit for both of us, check. 401ks are always automatic, so check. Automated IRA funding? No, I just do a lump sum early in the year. I've tried, but I don't like to automate credit card bills.
Get overdraft protection. Ally Bank checking account has a feature that I can automatically use my savings account for overdrafts with no fee. I don't even know if my local bank account has overdraft protection or not, as I've never had to use it.
Create an emergency fund. Check. I haven't done any rate-chasing recently, as there has been very little to chase. But I know I would if some bank offered a crazy-high APY.
Pay yourself first. I don't do this explicitly, although I do make sure that both of our 401ks and IRAs will be maxed out early on in the year.
Get organized through new technologies. I do use the recommended Mint.com (free) to aggregate my spending transactions only. I also use one of their recommended password managers, 1Password ($40+). I like both. I hadn't heard of the other password keeper mentioned – Dashlane – but it does look polished and the basic version is free.
I like playing around with finances, so I'm okay with my level of complexity for the most part. Things are set up so that most of the important stuff in a few limited places in case something happens to me, but maybe 5% of our net worth might be spread out in some experimental accounts.