While we're on the topic of international banks, US-based Everbank does offer FDIC-Insured Certificates of Deposit denominated in various world currencies: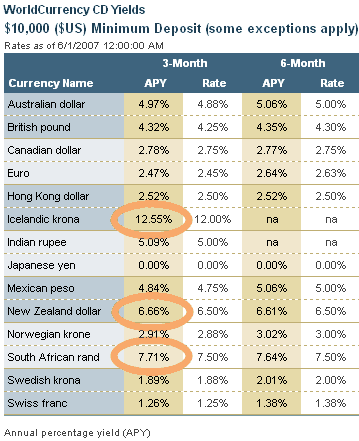 The three that stand out in interest rate perspective are the Icelandic krona, the New Zealand dollar, and the South African rand. But as I've said before, you are at the mercy of the future exchange rates on these currencies, so these should not be considered the equivalent of a dollar-denominated bank CD. FDIC only insures against bank failure – there is still the risk of loss of principal in these investments. According to Oanda, the exchange rates of the US dollar to the krona (USD:ISK) has varied by 23.4% within the last year, the New Zealand dollar (USD:NZD) has varied by 23.7%, and the South African rand (USD:ZAR) has varied by 19.3%.
From Wikipedia entry for the Icelandic krona:
As it stands, the Icelandic currency is a fully convertible but low-volume world currency, strongly managed by its central bank, with a high degree of volatility not only against the US and Canadian dollars, but also against the currencies of the other Nordic countries (Swedish krona, Norwegian krone, Danish krone and the euro). For example, during the first half of 2006, the Icelandic kr?na has ranged between 50 to 80 per US$.
If you bought US$100 of Icelandic Krona at 1:50, have it earn 15% in a year, but then exchange it back to US dollars at 1:80, you'd still be left with only US$72. Not so hot. Of course, if the opposite happened you could end up with $184! So really this seems like a way to make a bet against the dollar with a little bit of appreciation mixed in, if you feel so inclined. I'm amused by this option, but I think I'll leave the gambling to Vegas for now. (The minimum investment is also $10,000.) I do want to visit Iceland though – perhaps for "investment research"? 😉
Added
Commenter Andy astutely points out that you'll essentially be charged 1% in and out for a currency exchange fee as well – "The currency conversion rate will be within 1% of the wholesale spot price EverBank pays for the currency." This will especially hurt the shorter-term CDs.
If you would like some more background on why interest rates in Iceland are so high, check out this NY Times article on Iceland's fizzy economy. They are trying to tame inflation fueled by a hot stock market and housing boom, and definitely gives the vibe of a potentially volatile situation.