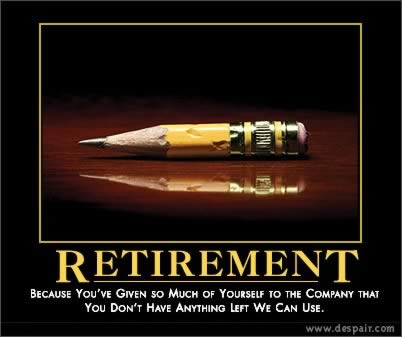 Which would you rather do:
A) Work 40 hours/week for 15 years, and then not work at all for the next 15 years, or
B) Work 20 hours/week for 30 years?
If you were to ask me a few years ago, I would have picked A. Now, I'd much rather have B. Of course, it's not as simple as just picking one or the other. Some sample considerations:
At most jobs, you can't simply decide to work less hours and get pro-rated pay. A job change or some clever negotiations with management might be necessary. Self-employment may be better suited to option B.
Even if you can work half-time, often you lose your healthcare benefits. This might be reasonable if you are single, but for a family with kids the costs can be pretty high. Might need to investigate alternative ways to get group coverage (professional association, creating your own small business insurance group).
For option B, you have less money coming early on, but you have more time for compound interest to occur before taking withdrawals. The opposite is true for option A – more money upfront, but you'll need to start spending sooner.
The (historically) optimal investing asset allocation might be different for both situations.
With option B, depending on timing and desire, you would have more ability to spend time with your children when they are young. Is time upfront worth more than time later? Quite possibly.
I think it would be hard for me not to work at all. For one, there is the stress of trying to live off a finite amount of money. Second, one would need to find another purpose in life to fill all the hours. Others might find it really easy…
Option A gives you a bit of leeway if investment returns don't pan out as you'd like. Maybe you'll work a bit longer than 15 years. Trying to make up lost savings when you are older may be more difficult (ageism) and/or tiresome (just age).
Lower annual income with option B might leave you with lower overall tax hit.
Behaviorally and psychologically, it may be easier to spend less if you force yourself to make less.
I need a better name than "semi-retirement". Downshifting? Half-retirement? Half-working? Working 9-1?