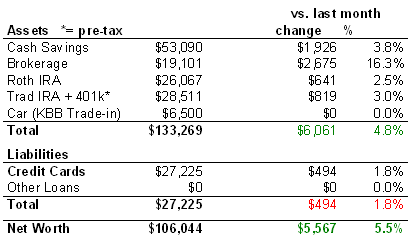 Pay Off That Credit Card Debt!
Newer readers may note some serious credit card debt going on above. In short, I'm borrowing money for free and keeping it in safe investments while earning me interest. This month I put up a detailed series of posts on this 0% game. So please don't be alarmed.
Thoughts
August was a strong month, with the stock market bouncing up a bit for whatever reason. I love watching the "experts" arguing both sides with convincing arguments. My brokerage accounts rose a bit due to me transferring some money to participate in a reverse stock split. There are some possible bumps in the road on that one, but we'll see what happens. I remain unmotivated to trade other individual stocks for now.
We saved over 50% of our net salaries this month, as I am working while our lifestyle is designed to survive perfectly well on only my wife's income. It feels good to see the money coming in. The vast majority will end up padding our cash savings for that looming-yet-far-away house down payment.
I did finish the paperwork to open up a Solo 401k with Fidelity, and will be funding it this month to put some more money away in tax-deferred accounts. It was relatively painless to set up, as I had hoped.