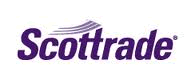 I've had an account with Scottrade for several years now, and here is an updated, in-depth review for 2012 (last one I did was in 2006!). I will focus on all the little things that make brokers different from each other, from completing your taxes to buying a stock on a moment's notice. This review will be from the point of view of a casual private investor who does not trade daily but does mostly buy-and-hold ETF investing and also trades some individual stocks with a small portion of his portfolio (less than 5% of overall portfolio).
Unique Characteristics
505 physical branches nationwide. No other discount broker has nearly the same footprint. If you like the feeling of knowing there is a physical branch with friendly humans to interact with nearby, this is the broker for you.
Fiercely privately-owned. The current CEO, Rodger Riney, is the same person that founded the company in 1980. He has rebuffed repeated offers to be sold to public corporations like E-Trade or Ameritrade. I kind of like this independence and unwillingness to cash-out. It helps them not have to worry about profits all the time. For example, even during both recent stock market busts, no one has ever been laid off, and no office has ever been closed. Their branch brokers don't offer advice to customers and do not work on commission.
Commissions and Fees
Stock commissions are $7 a trade. No maintenance fees, no minimum balance fees, no inactivity fees. $500 minimum to open the account. Options trades are $7 + $1.25 per contract.
Electronic statements and trade confirmations are free, but paper ones are not. Mailed statements are $2 each, mailed trade confirmations are $1 each. It's easy to download the statements as PDFs and print if necessary.
No account closing or transfer-out fee. This is rare, as nearly all the other places charge you $50+ to move your positions away to another broker.
No free dividend reinvestment. There is no free dividend re-investment plan (DRIP) at Scottrade. What I do is wait until enough dividends accumulate and then reinvest them along with new money, because I don't like dealing with many small tax lots with partial shares.

No Transaction Fee Mutual Funds, No Commission ETFs
Scottrade has a limited set of commission-free indexed ETFs that are co-branded with Morningstar. Here is the complete list. Although they have low expense ratios, these ETFs still have a low asset base and low trading volume, so I don't use them. I'd rather just pay the commission for better ETFs, making my trades large enough so the commission doesn't matter as much.
Scottrade also has a number of no transaction fee funds, but these funds have to pay Scottrade to be in their "supermarket", and thus the fund families I actually like including Vanguard will not be commission free. They do have good availability for other fund families though, at a cost of $17 per trade.
Funds Transfers, Banking Services
Fund deposits. Scottrade uses a Yodlee-based interface to electronically link your external bank accounts. The good news is that this system allows instant availability of funds with high transfer limits. If I wake up on a Monday and want to buy $10,000 or even $100,000 of AAPL, I can request the transfer on Monday from an external bank and trade with that money immediately that same day (even though the funds won't actually be debited until the next business day). This way, I don't have to leave any idle cash at Scottrade. I really like this feature.
Fund withdrawals. It's not so easy on the way out, as you can't withdraw funds using the same system. You can call your local branch and request a check to be mailed to you (same day if requested before 1pm ET), or you can write yourself a check (free checkwriting with $5,000 minimum account equity balance). It's a little clunky, but I don't withdraw money very much, so it hasn't been a big deal. However, you can now get around this with Scottrade Bank…
Scottrade Bank was rolled out in 2011, which let you add banking services to your brokerage account. Online Billpay, FDIC insurance, ATM fee rebates, and so on. I wasn't really interested in these products, and the interest rates weren't very good, so I have not opened any bank accounts. However, opening an account would provide a way to electronically withdraw my funds to an external bank.
User Interface and Real-time Quotes. There are three basic interfaces to choose from. The default web interface is about par with other brokers, you have little modules like Positions, Watch List, and Orders that you can move around to your liking. Alternatively, all users can get free real-time streaming quotes including NASDAQ Level II through the Scottrader Java-based interface (screenshot below). If you have a minimum account equity of $25,000, you can use the ScottradeELITE platform targeted at active traders.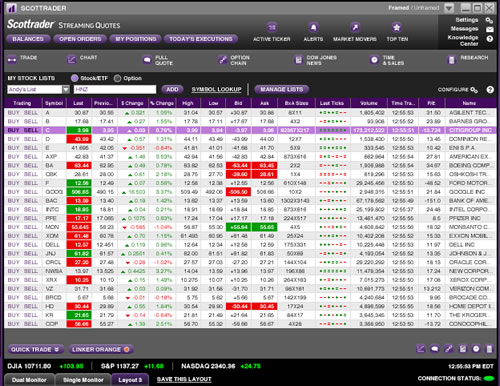 Mobile trading. They have all the obligatory mobile stuff… Mobile trading website on any phone plus specific apps for iPhone, Android, iPad, and Blackberry.
Tax Lot Management. You also get free gain/loss tax management software powered by Scivantage Maxit, which does things like correcting cost basis based on corporate actions, tracks wash sales, and matching stock sales to specific tax lots. (Software used be provided by Gainskeeper, but I can't tell any difference.) You can even choose a default tax strategy for your tax lots – minimum tax, first-in/first-out (FIFO), highest-in/first-out (HIFO), last-in/first-out (LIFO), and maximum gain. Finally, you can download your realized gains/losses in TurboTax® format (TXF) to easily create your Schedule D at tax time.
Customer Service. I haven't used customer service for anything serious, which I suppose is a good thing, but every time I call the local office there is a human that answers with no hold time, and that same person actually answered my questions without having to be transferred.
Summary. Scottrade is a solid, independently-run, discount brokerage. It's no longer the rock-bottom cheapest, but it still has good all-around value if you're not making a ton of trades per month. They are focused on the self-directed investor who wants all the required tools covered well, without any hidden fees or being sold portfolio management advice. Feel free to ask questions below, I'll try to answer them if possible.