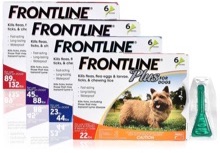 Updated. The NY Times The Secret Price of Pets was rather eye-opening. We definitely spent a lot of money near the end of our last dog's life, but Neuticles? Cosmetic surgery? Meanwhile, the cost of flea medication has dropped for us from $10 a month to 67 cents a month over the last decade of dog ownership. That's over $200 a year in savings for two dogs as compared to buying it retail. We have dogs so that is what I'm using for my numbers, but the same strategy would work for cats.
There are many options for flea prevention today, but Frontline Plus is still quite popular. It used to be that you would buy it from your vet and it would cost close to $15 per monthly dose. These days, I'm guessing most people use Amazon or Costco since you don't need a prescription. In addition, the patent for the main active ingredient in Frontline (fipronil) has been expired since 2011. Generic brands now include Sentry FiproGuard Plus and PetArmor Plus.
Price comparisons. Here's an example of the cost comparison for their "Orange box" meant for small dogs (22 lbs and under). Prices taken January 2019.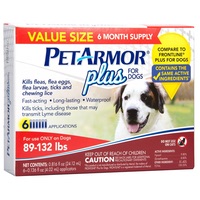 Buying a larger dose and splitting it yourself. I got this idea originally from eBay sellers that were selling the biggest size (Red box) made for dogs up to 132 lb. dogs with with glass vials and syringes for splitting. I'm not sure what happened, but I believe that the manufacturer Merial pressured eBay and/or their authorized sellers to stop the sale of such kits. I don't see any such kits available for sale any longer. You can simply buy amber glass vials with droppers on Amazon yourself for under $10 upfront.
I still believe the DIY method can be efffective and safe if done properly. I've seen articles from licensed vets and also multiple reader comments saying their own vet approves this practice. Pet shelters and rescues also commonly do this to stretch their limited resources.
More accurate dosing for your pet. By default, Merial categorizes dogs into four broad categories: 0-22 lbs, 23-44 lbs, 45-88 lbs, and 89-132 lbs. This corresponds to vial sizes of 0.67 ml, 1.34 ml, 2.68 ml, and 4.02 ml respectively. I don't know about you, but I see a pretty big gap between 45 and 88 pounds.
They have to make sure even the biggest dogs in the range are adequately dosed, so if you divide the vial size by the largest size for each category in pounds, you get 0.0305 ml per pound every time. So if you have a 25 lb. dog why give them double the dose of a 22 lb. dog? Just give them a bit more (0.76 ml) and you should be fine. Less meds, less waste, less money.
Example DIY savings. For simplicity, I'll assume you have exactly a 22 lb. dog. Next, assume you buy the biggest size (Red box) made for 89 to 132 lb dogs and split it into the same 0.67 ml doses as the 22b size (Orange box) using a glass vial and plastic syringes. In other words each single 4.02 ml dose will be split into six 0.67 ml doses. Prices taken January 2019.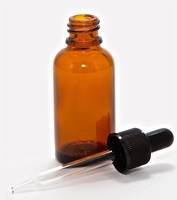 Proper precautions. Here are some tips to make sure you split your doses safely and effectively.
Use protective gloves. You'd ideally want to do this with the official product anyway, so a box of nitrile gloves is a good investment.
Keep medication away from light and air. Either use a dark, glass vial or keep it an airtight syringe in airtight bag in a dark, cool space. When using a plastic syringe as the applicator, remove any needle! You're just drizzling the stuff on your dog's skin surface. You can buy 12 glass vials with droppers for $9 from Amazon. The 0.51 ounce bottles hold about 15 ml. The biggest dose packages are 4 ml. A drop is about 0.05 ml.
Do not mix and match dog and cat Frontline. The ingredients may differ slightly, which may be quite dangerous or even lethal. The concentrations may differ as well.
Dose carefully. As with all these flea medications, you can do some trial and error to see what brand and dosage level works for your dog. You might need more or less than indicated for your dog and environment. I would avoid going over the maximum manufacturer recommendation.
Bottom line. Monthly flea & tick medication is an ongoing cost of owning a dog or cat. You can save a significant percentage by splitting up larger doses and buying in bulk (even if you keep shopping at the same store). You can save even more by buying a generic version (see above) with the same active ingredient, just like Advil vs. ibuprofen. For a small dogs, you can get your cost down to $1 per monthly dose per pet.