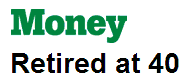 A few weeks ago I was reading an article in Money magazine about a couple who retired at 40. While they do live frugally in relatively low-cost St. Louis, the primary reason they were able to retire is that they each served for 20 years in the military and now receive a pension of $58,500 per year. They will receive this amount, adjusted for inflation, for the rest of their lives! On top of that, they get health coverage forever as well.
Obviously there are some important issues involved in working in the military. A sense of national duty, risk of injury and even death, possibly lower pay, and constant relocation, just to name a few. But let's just focus on the financial aspects here. I knew military pensions were good, but I didn't know they started as soon as you retired. I figured they'd kick in at 60 or 65, not right away. How much is that pension really worth? How much would a civilian job-jumper have to put away to replicate it?
Converting A Pension To A Lump Sum
A pension income is essentially what is provided by an immediate annuity. You pay a lump sum, and in return you get a constant stream of payments for the rest of your life. According to the quote estimates at ImmediateAnnuities.com, a policy that provides $58,500 of lifetime income per year starting at age 40 is worth a million dollars. This is without inflation adjustments, as I couldn't find an instant quote for that. There are a ton of different options to these annuities, and there are tax implications to boot, so I'm just giving a ballpark number here. (You can estimate your own lump sum number by multiplying your desired income by 17.)
In addition, I can't properly estimate how much the lifetime of health insurance is worth, but it has to be worth at least another $100,000-$200,000. The article lists their net worth at about $500,000, but really it is the equivalent of around $1.75 million for someone with no pension. At 40 years old, that is quite impressive.
Converting Lump Sum To Savings Rate
So let's take an even million dollars. According to this simple savings calculator, if I assume an 5% annualized return on my investments (after-inflation), to end up with a millions dollars, that would be the same as saving $2,500 every single month for 20 years (in today's dollars).
One way to to look at this is that their pension benefit was like receiving an additional $30,000 per year on top of their previous income. This is not to say this was any easy path and you have to have special resolve to stay for 20 years, which does not sound like an easy task at all.