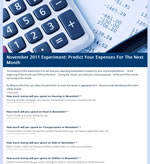 Even though I'm really into personal finance, I hardly ever do a monthly budget. However, I do think a common problem out there is that folks spend more than they think they do. Often this is just in one "problem area" such as groceries, dining out, clothes shopping, or online purchases. Therefore, I propose an experiment where everyone tracks their budgets for just one month. (If you already track your spending religiously, skip this post.) It's October 31st, so how about November?
I'm doing this myself for November, and I hope you'll join me. The experiment is quite simple. Here is the overall picture, followed by details.
Before the start of the month, write down what you think you will spend that month.
During the month, track your spending.
At the end of the month, compare your prediction and actual spending results. What was different? Why?
Start of the Month
Without checking any other sources, just use your gut and write down how much you think you'll spend for the month. Break it down into categories like housing, food, debt, transportation, utilities, and so on. If you'd like to participate in a group project, I've created this simple Google Docs form that you can fill out your predictions, and I can report on overall numbers later one. Unfortunately, the form won't e-mail you a copy of your inputs, but you can record your prediction by printing out this PDF version or use this text file and save it on your computer.
During the Month
If you do the majority of your spending via online billpay, debit cards, and credit cards, then the easiest way to track your spending is with a online money management site like Mint.com (owned by Intuit) or one of the many flavors of Yodlee out there (Fidelity FullView, Bank of America MyPortfolio, etc). You just enter your login information, and it pulls all your transactions for you. Categorization gets better the more you use it.
Alternatively, you can keep track using pencil and paper, enter expenses into a smartphone app, or use desktop software like Intuit Quicken or iBank for Mac. You could also just wait until the end of the month and tally up your statements, but then this task might become a bit daunting. It's probably best to keep up with it at least weekly. I plan on using Mint because it's already learned most of my categories, and it also has a mobile app that lets you enter cash transactions.
End of the Month
The moment of truth arrives. In what areas did you overspend? I'm hoping to get at least 100 readers to fill out this predicted spending survey and then follow-up with an actual spending survey to see how it went. I've already entered my numbers and don't worry, it's all anonymous. How well do you really know your own spending?