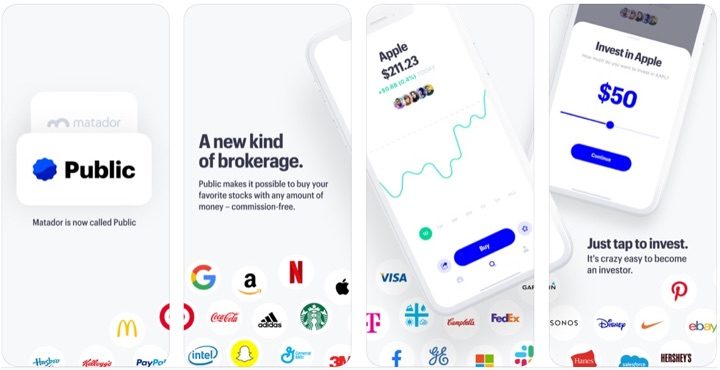 Updated. Public, formerly known as Matador, is a new brokerage app that combines several different features that you might have seen separately elsewhere:
Free dollar-based stock trades with no minimum balance. Not only can you trade any stock for free, you can also choose to trade fractional shares in real-time for free as well. For example, Google stock may trade at over $1,000 a share, but you can buy just $50 worth if you want with no commission.
Free stock slice via referral. Details below.
Social investing. You can "follow" other investors and see their portfolio holdings and recent trade activity.
Referral bonus details. Here is my Public referral link for a free slice of stock. Thanks if you use it! The updated terms of this detail are a bit vague – my app just says a "free slice of stock". Here is their link with full terms. Sounds like the value varies, up to $50. Note that you are not allowed to withdraw the value of the free stock received for up to 90 days after the free promotional stock is received.
Interest on cash sweep. You may have seen that Public used to offer 2.5% interest on idle cash up to $10,000. This was a pretty high interest rate at the time, but as after the Fed rate drops in early 2020, it was apparently unsustainable. As of March 30th, 2020, Public stopped paying interest on idle cash.
Other inner details. Public (formerly Matador) is part of T3 Securities, which is a broker-dealer member of FINRA and SIPC. The clearing firm is Apex Clearing, as with many other similar apps. Public uses Plaid to link your external bank accounts for ACH transfers, which is a widely-used third-party service. The default setting is free paperless trade confirmations and statements, otherwise a physical trade confirmation is $2 a pop and a paper statement is $5 a pop.