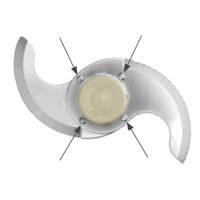 In case you missed it during the holiday rush, Cuisinart has issued a recall of over 8 million food processor blades in the US and Canada. This covers a huge chunk of their machines sold in the last 20 years, including the one in my kitchen. The riveted blades can crack over time and leave small metal pieces in your food (yikes!).
This recall involves the riveted blades in Cuisinart food processors with model numbers that begin with the following: CFP-9, CFP-11, DFP-7, DFP-11, DFP-14, DLC-5, DLC-7, DLC-8, DLC-10, DLC-XP, DLC-2007, DLC-2009, DLC-2011, DLC-2014, DLC-3011, DLC-3014, EV-7, EV-10, EV-11, EV-14, KFP-7 and MP-14. The model number is located on the bottom of the food processor. The blades have four rivets and are silver-colored stainless steel and have a beige plastic center hub. Only food processors with four rivets in the blades are included in this recall. Cuisinart is printed on the front and on the bottom of the food processors.
Cuisinart will send you a free replacement blade if you contact them through their website at recall.cuisinart.com or call them at 877-339-2534 from 7am to 11pm ET Monday through Friday and from 9am to 5pm ET Saturday and Sunday. They have not offered anything further such as partial refunds or reimbursements.
I submitted my information online and received a confirmation e-mail. They were very vague with how long it would take to send the new blades.
Thank you so much for registering to receive your free Cuisinart replacement blade. Our blades are fabricated using precise manufacturing processes, which of course means, that they take some time to produce. We are producing new blades as rapidly as possible to meet the demand resulting from this replacement program.

When your blade is about to be shipped, we will send you an email so you can anticipate when it will arrive to the address you indicated on your replacement blade registration. In the meantime, you are able to use all other cutting implements and accessories that may have come with your Cuisinart food processor.