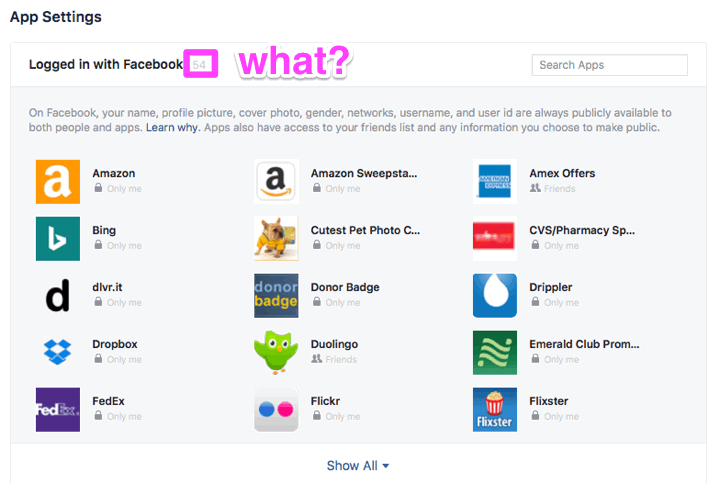 If you use Facebook regularly, you should read this Buzzfeed article about how to check your third-party app settings. It's completely separate from your privacy settings. Even though I use Facebook very sparingly, I was surprised to find that I had linked 54 different third-party apps and shared varying levels of personal information with them. You get distracted by a giveaway (free miles!) or trivia game and quickly forget that they can keep collecting (and selling) your data forever. Here's how to find them:
[Visit this link, or] on the desktop interface, click the downward arrow in the top-right corner and select Settings. Then select Apps from the menu. On the apps page, you'll see all the apps where you've logged into Facebook. On mobile, tap the menu bar (bottom-right for iOS, top-right for Android), and select Settings > Account Settings > Apps > Logged in with Facebook.
I just deleted them all; I figured I can always add them back later. You can also contact the apps and request your existing data to be removed. The same author Nicole Nguyen also wrote about other ways to limit your Facebook data gathering. I decided to remove the Facebook app itself and only use their website when needed. I suppose I'll have to do something similar with other social media sites, but Facebook and Google seem like the scariest by far in the amount and types of information they can analyze together.
Related: Beware Recurring Preapproved Payments on PayPal – Skype Account Hacked