Paid surveys can be a reasonable source of additional income for the right people. On a per-hour basis, they are rarely a great deal and can get tedious. But hey, you can do them during downtime on the job or late at night while watching Leno, and they can add up to hundreds of dollars over a year. I find myself being more and more picky about them as time goes on.
Accordingly, my preference is to stock with sites that offer regular surveys and are upfront about payouts. I'd much rather know I'm getting $5 for a 20-minute survey than be entered in some vague sweepstakes drawing for $500. Here are the sites that I think best fit this criteria:

Pinecone Research is one of the more elusive paid survey companies, as they pay $5 for each and every survey you complete, as well as give some neat products to try out. With them, I used to* make a steady $10-$25 per month. Thanks to Kathy for sending me the most recent recruitment e-mail, which states that they are looking for new members who are male and 18+. Here's the Pinecone sign-up link. I've anonymized the link, but this still won't last long!
*Two important tips to keep the Pinecone gravy train running:
1) These guys are very strict. Whatever info you sign up with, you must always keep it up to date and follow it exactly. For example, if your profile says you're 35 and in a later survey you state that you're 46, you may mysteriously stop getting any new surveys. It's best just to be honest.
2) Fill the surveys out as soon as you get them. I think this is why I was kicked out. For some reason they stopped e-mailing me survey alerts (multiple e-mails to Ms. Scott trying to fix this went unanswered). By the time I got the notices in the mail, the survey had expired. If you miss enough surveys, they boot you. I'm still a bit grouchy over this… 🙁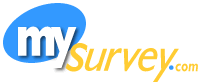 NFO MySurvey is another site that always tells you exactly what you'll get before you do the survey. The payout rates are a little lower, but you can get a steady stream going. Some examples are 10 points (10 cents) for a 1-question survey to 250 points ($2.50) for a longer 10-minute survey. Occasionally you get a big one for more. You request payout svia check, and they send it out promptly. MySurvey sign-up link.
These folks are more laid back. You can miss several of these surveys, but you have to do one every few months to keep your points alive. They'll send you an e-mail reminder to do so.
Other Surveys Sites
Here are some other ones, sorted in decreasing order of how often I get survey opportunities: American Consumer Opinion, SurveySavvy, Greenfield Online, Lightspeed Panel