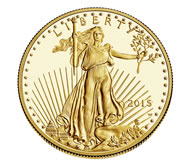 New deal March 17th, 2022. The US Mint regularly releases limited-edition coins to collectors. The coin sets are often limited to one per household, but end up with a market value greater than the initial cost. PFS Buyers Club is a website broker that recruits regular folks to buy their allotted coin set with a set markup amount, with the agreement that they will sell only to PFS Buyers Club. For example, you might pay $300 for a coin and they'll agree to pay you $350 for it – a fixed profit of $50.
On Thursday, March 17th at 12:00 pm Noon Eastern Time, there is a new guaranteed profit opportunity. A limited edition American Eagle Four-Coin Set will be released then, with a purchase limit of one per household. The cost of the Four-Coin Set should be either $5,332.50 or $5,240.00 (depends on the spot price of Gold). Shipping will cost $4.95.
PFS will pay you a fixed commission of $162.55 for each Four-Coin Set, on top of your cost for the set.
You'll also earn credit card rewards on your ~$5,000 purchase (worth another ~$100 here at 2% cash back), or also possibly satisfying the requirements for some $500+ value credit card bonuses. This makes the total net profit safely over $250.
Note that the eventual value of the set may exceed that elsewhere – you may see a higher bid on eBay, for example – but if you want to make that bet, don't promise to sell to PFS Buyers Club. Just buy it on your own and try to sell it yourself. Keep in mind that eBay seller fees can be quite high (12.9% of the final selling price + PayPal fees), and you'll be responsible for other costs like the proper shipping with adequate insurance. PFS Buyers Club will send you a free prepaid mailing label (including insurance) and pay you via eCheck, paper check, or PayPal. I enjoy the low-stress experience.
My past experience. I used PFS last year for the first time, and everything went smoothly and I was paid my money in full without issue. The amount of communication was great and better than expected; I was kept up-to-date every step of the way. The total time commitment was about 30 minutes for $400+ profit, including the stop at the Fedex store to drop off the box with prepaid label. The eCheck option worked great – I printed the check out at home and deposited immediately via mobile app. PFS has a very solid reputation online, although some folks were unable to buy the coins from the US Mint before it went out of stock. I have done over six deals with them myself with no issues whatsoever.
If you want to jump on this, you can sign up to join PFS Buyers Club here. Sometimes these deals fill up, so I would sign-up (it's free) and opt-in sooner rather than later. You can still opt out of the deal until an hour prior to the coins going on sale. They will provide very detailed instructions. Follow them carefully, and it was pretty easy for me as a first-time buyer. If you use that link, I will receive a referral fee the first time you successfully sell your coin for a profit. Thanks for those that use it, and for those that already used it last time! I would sign up, but I will unfortunately be skipping this round because I am currently on vacation and at that moment I will be on a dogsledding excursion!