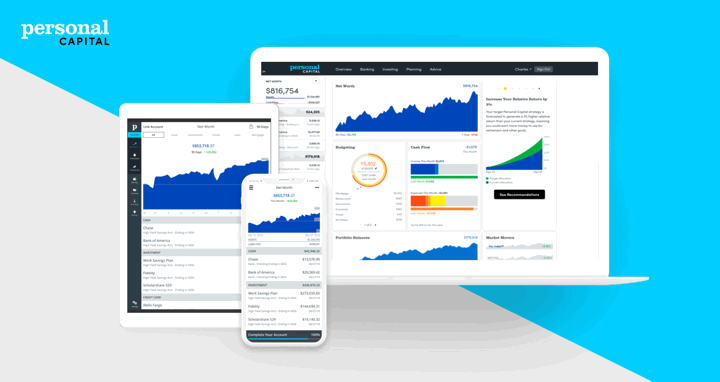 Personal Capital is free financial website and app that links all of your accounts to track your spending via bank and credit cards, investments, and net worth. You provide your login information, and they pull in the information for you automatically so you don't have to type in your passwords every day on 7 different websites. Personal Capital's strength is in investments, including portfolio tracking, performance benchmarking, and asset allocation analysis.
Net worth. You can add your home value, mortgage, checking/savings accounts, CDs, credit cards, brokerage, 401(k), and even stock options to build your customized Net Worth chart. You can also add investments manually if you'd prefer. I have a habit of accumulating bank and credit union accounts, so I find account aggregation quite helpful.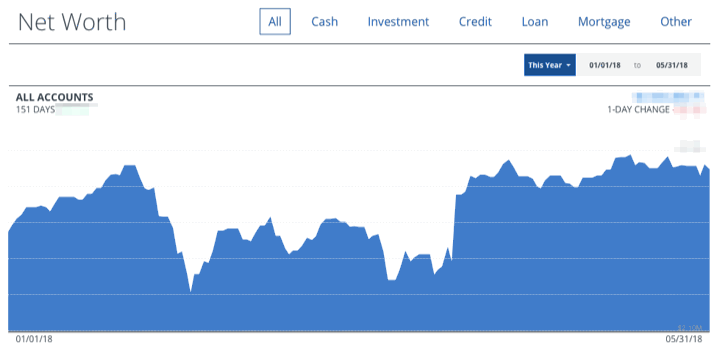 Cash flow. The Cash Flow section tracks your income and expenses by pulling in data from your bank accounts and credit cards. This chart compares where you are this month against the same time last month. If you hate budgeting, you may find it easier to view a real-time snapshot of your spending behavior. Their expense categorization tool is pretty accurate, and if it isn't you can change it manually. However, it isn't quite as advanced as Mint.com, where you for example you can make a rule to always classify "Time Warner Cable" as "Utilities" and not "Online Services".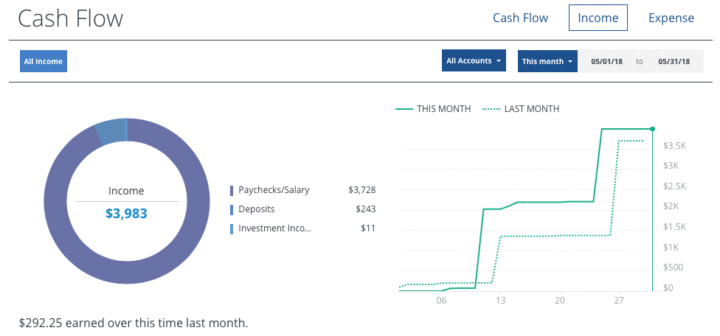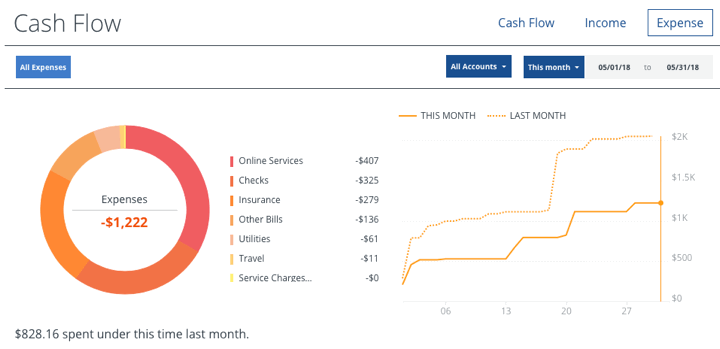 Portfolio. This is where Personal Capital is better than many competing services, by analyzing my overall asset allocation, holdings, and performance relative to benchmarks. If you're like me, you have investments spread across multiple custodians. I now have investments at Vanguard, Fidelity (401k), Schwab, TransAmerica (401k), and Merrill Edge. It's nice to be able to see everything together in one picture. They can also analyze your retirement accounts fees to see if you are quietly getting charged too much.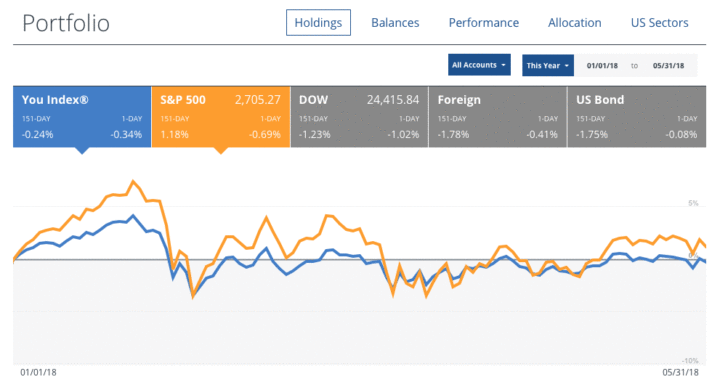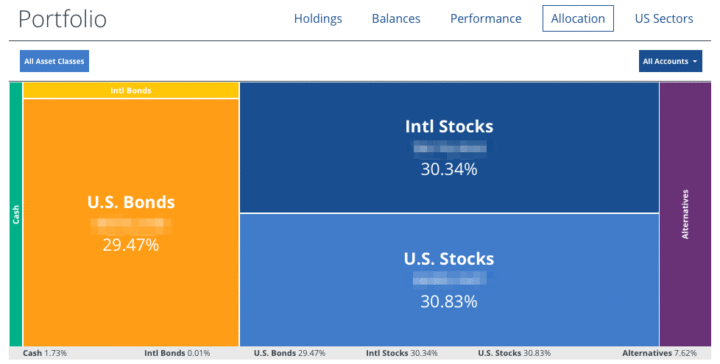 For comparison, Mint did not allow manual input of investments and it did not break down my asset allocation correctly based on my linked accounts. In fact, all it shows is a big orange pie chart with "99.9% Not Sure" and "0.00 Other".
Personal Capital considers the major asset classes to be US stocks, International stocks, US Bonds, International Bonds, and Cash. The "Alternatives" classification includes Real Estate, Gold, Energy, and Commodities.
If you have one bank account, one credit card, and a 401(k), you may not need this type of account aggregation service. Life tends to get messy though, and this helps me maintain a high-level "big picture" view of things.
Security. As with most similar services, Personal Capital claims bank-level, military-grade security like AES 256-bit encryption. The background account data retrieval is run by Envestnet/Yodlee, which partners with other major financial institutions like Bank of America, Vanguard, and Morgan Stanley. Before you can access your account on any new device, you'll receive an automated phone call, email, or SMS asking to confirm your identity. Their smartphone apps are compatible with Touch ID/Face ID on Apple and mobile PINs on Android devices.
In terms of the big picture, my opinion is that by making it more convenient, I am able to keep a closer eye on all my account and thus actually make myself less likely to be affected by a security issue.
How is this free? How does Personal Capital make money? Notice the lack of ads. Personal Capital makes money via an optional paid financial advisory service, and they are using this as a way to introduce themselves. (People who sign up for portfolio trackers tend to have money to manage…) They are a hybrid advisor, combining their online tools with real human access. Their management fees are 0.89% annually for the first $1 million, with slightly lowered pricing as you go past $1 million in assets. As an SEC-registered RIA fiduciary that now manages over $7 billion, I think this improves their credibility as a company built to handle sensitive information.
Note that if you give them your phone number, they will call you to offer a free financial consultation. If you answer the phone or e-mail them that you don't want to be contacted anymore, they will honor that request. Or you could ask them your hardest financial question and see how they respond. However, if you simply ignore the phone calls, they will keep calling. Now, you can keep using the portfolio software for free no matter what happens. But, if you aren't interested, I would highly recommend simply being upfront with them. A simple "no thank you" and you're good.
If you're upfront with them, they'll be upfront with you. I'm still a DIY guy when it comes to my money, and they have been happy to keep monitoring my accounts for free, without any additional phone calls over the last 5 years.
Bottom line. It's not what you make, it's what you keep that counts. The free financial dashboard software from Personal Capital helps you track your net worth, cash flow, and investments. I recommend it for tracking stock and mutual fund investments spread across different accounts. I'd link your accounts on the desktop site, but interact daily through their Android/iPhone/iPad apps for optimal convenience (log in with Touch ID or mobile-only PIN).