Almost a month ago I was brainstorming ideas for an online business that my wife and I could start together. Well, since then we've both been otherwise distracted and haven't made much progress. It seems we just don't have the time to do it all out, so we are moseying along at our own comfortable pace. We realize this is mostly for fun and to spend time together on a common hobby. Anyways, I thought I'd share some prototypes we've been cooking up. As I mentioned before, we think the pet area is a good growing market with higher margins.

Prototype #1: A handmade reversible raincoat/jacket, as modeled by our dog James. This is all made by my wife, with fabric scraps. One side is softer fleece, the other is waterproof. It has Velcro for easy attachment/detachment.
Prototype #2: Fleece dog toys with squeakers inside for hours of fun and amusement. As you can see with the holes, we are currently going through QA testing, and are making the new models with thicker material and better stitching.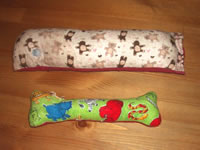 Prototype #3: Jingle Bell collar. Give your pooch (or kitty I suppose) some holiday spirit. Working on matching Santa hat. May drive your dog nuts initially!

Wife supplies the skill, I help with ideas and would do the marketing and logistics. We also have other top-secret ideas for extra 'features' for these products. 😉 But feel free to tell me some in the comments if you have any. Maybe we'll send you a free product, if we ever get this off the ground.