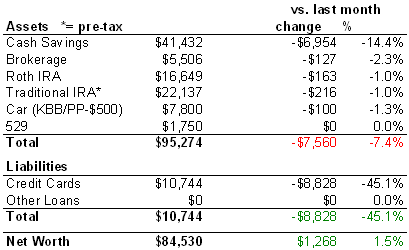 Standard intro: My large credit card debt is all at 0% APR interest. Please see my posts on taking advantage of no fee 0% APR balance transfers for more information. In short, I'm borrowing the money for "free" and depositing it in various safe short-term investments where I can earn up to 6.7% interest. I don't pay interest, I get paid interest!
The numbers for this month look funky because one of my 0% APR offers expired and I paid it back in full, causing lots of money to go from cash to credit card payments (see 1st paragraph for why), but I'm looking to pick up another balance transfer this month. The combination of free money still being given out for 12 months and higher interest rates are just too good to pass up! Savings bonds, T-Bills, and CDs, oh my!
But if you look at the Net Worth value, this month was solid. I got a partial tuition refund for testing out of a class, and there were no unexpected expenses. The stock market had one of it's bi-monthly 'corrections' so that hurt a bit. Still, our net worth increased by over $1,200 this month!
Accordingly, our non-retirement assets went up a healthy amount to $45,744, inching us closer to the half-way mark of our $100,000 Mid-Term goal, a hefty future downpayment in real-estate-bubble-land (or so we hope right now). Moving forward is awesome.
(A reader asked why I have $1,700 in a 529 and no kids. It's because it is linked to one of my favorite rewards credit cards, the MBNA 529 Card which gives me 2% cash back on purchases.)