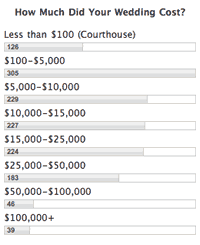 First, even though it could have been executed better, to the right are the results of my informal wedding cost survey. While there was a big spread, over 30% of people said they spent less than $5,000 on their weddings. Impressive! The median value was near $10,000.
Now, a few people asked me what we spent on our wedding. I'm sure more people were wondering, but weren't so bold. 😉 I've actually avoided talking about this topic for a variety of reasons, the main one being that I don't think I have anything especially helpful to offer on this front! However, I'm sharing all kinds of money stuff already, so why not throw it out there and see what happens…
Weddings Are Very Personal
Weddings are tricky. They involve the expectations, cultures, and traditions of two families, who might have completely different ideas of what a wedding "should" be. This is on top of what the media perpetuates as standard, in everything from wedding magazines to movies. As such, I try to refrain from forming opinions on what people should or should not do for their weddings. Everyone needs to find their own balance between wants and costs.
What We Spent
In our case, each set of parents decided to give us $10,000, for a total of $20,000. However, this was not "spend whatever you want, and keep the rest" money. With this money, we had fulfill a ton of expectations. Both of our extended families were coming from around the world, and we had to throw a grand ceremony. The location had to be fancy. The food had to be fancy. We fought a lot to keep the guest list under 200. I couldn't believe some of the prices we were paying. We did what we could to save money in several other areas in order to make these things fit into the budget, but I'm not going to suggest we performed any grand feats of frugality. In end, I think we ended up paying a few thousand dollars ourselves to cover everything. Total cost: About $23,000 in 2004, which excludes rings.
What We Received
Gifts seem to be a very hot topic in weddings as well. We didn't mention gifts on our invitations, but most people did provide gifts of varying sizes. In my family, large cash gifts from family are also traditional. In the end, I would say the value of the gifts came to about 50% of the cost of the wedding – $10,000.
But wait, shouldn't I include this in our net worth history? Actually, no. We ended up giving $10,000 back to my parents-in-law, which left us even with respect to net worth implications.
Conclusions?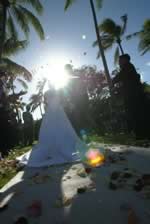 Here's a peek of what our wedding looked like. 😀 Even though I wasn't very involved at all in the details, I was a lot more emotional than I thought I would be. It was a very rare event to have all my family and friends, who are usually scattered across the globe, to come together. I was touched that they came just to see us celebrate our love. Cheesy, but true. I'm very grateful that our parents were so generous in helping us pay for the wedding, and I plan on doing the same for our own children. We remain truly blessed.
So that's it. Not very exciting, huh? I think my only real opinion is that I don't believe a couple should go into an unreasonable amount of debt for a wedding. If they save up for it and that's how they want to spend their money, then fine. If their parents want it pay for it, then that's fine too. If they want to keep it simple and small, that's also great.