Several readers shared their own spending breakdowns in the comments of my previous post, so that inspired me to dig up the numbers for ourselves. I don't have exact stats, and our income varies each month, but I did the best I could by averaging everything over the last 12 months. The percentages are taken from after-tax, or "take home", income.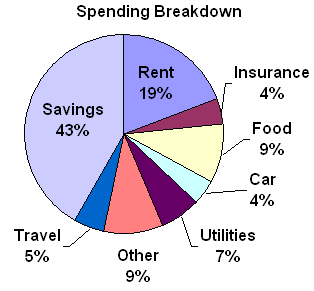 Quick explanations for each category:
Food is both eating out and groceries. Car means gas, maintenance, and insurance. Insurance means everything but car insurance: Health, Dental, Disability, Renter's, and Umbrella. Utilities are all monthly recurring expenses like natural gas, electricity, trash, cell phone, VoIP, and water. Travel includes both visiting family and sightseeing. Savings includes both short-term savings for a house downpayment and putting away for retirement. Other is everything else – pet-related, clothes, gifts, donations, etc.
Things look pretty manageable for us right now, but soon our housing slice will probably double or more in size, and we have no kids right now, so the pie will definitely evolve over time. Of course, hopefully we'll be earning more too. I also want to add life insurance and maybe better disability insurance to the mix soon.
This was an interesting exercise, perhaps just as illuminating as tracking your expenses for a month. Even if you guesstimate, you'll likely end up with something that may inspire some change or simply reinforce your efforts so far.
Just like with my net worth tracking, I'm not here to compete with anyone else, I think we all have our own goals to work towards. However, feel free to comment with your own numbers.