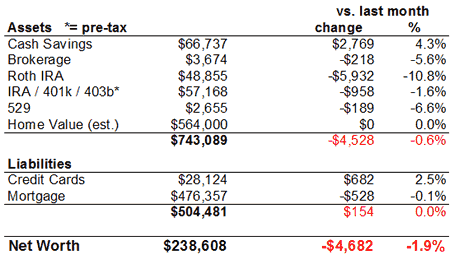 Credit Card Debt
If you're a new reader, let me start out as usual by explaining the credit card debt. I'm actually taking money from 0% APR balance transfer offers and instead of spending it, I am placing it in high-yield savings accounts that actually earn 3-4% interest or more, and keeping the difference as profit. Along with other deals that I blog about, this helps me earn extra side income of thousands of dollars a year. Recently I put together a series of step-by-step posts on how I do this. Please check it out first if you have any questions. This is why, although I have the ability to pay the credit card balances off, I choose not to.
Retirement and Brokerage accounts
Whew! Ignoring new investments, the value of my holdings lost nearly $12,000. I won't go into why, I think most people have heard the overall reasons. I did a portfolio update in mid-September to better understand what happened specifically. Accordingly, I am directing future contributions as I can to help rebalance my portfolio back towards the target asset allocations (mainly international developed and emerging markets stocks).
I did make an $5,000 contribution to my self-employed 401k, although I am still left in negative territory for the month. I do hope to contribute at least the $15,500 maximum salary deferral in 2008, as this has been my only contribution so far this year. My wife has already maxed out her 401(k).
Cash Savings and Emergency Funds
Last month, we achieved our mid-term goal of six months of expenses ($30,000) in net cash put aside for emergencies. Once my retirement accounts are funded, I may try to increase this cushion. An alternate reason for increasing cash is for potential real estate opportunities (way) down the road.
Home Mortgage
Another ~$500 of loan principal paid off. According to Zillow, the estimate of the value of my house is still higher than what I originally paid for it, but has also dropped 3% in the last month alone.
Big Expenses
We are taking a trip to Spain in November, which will cost us about $1,000 each. I wrote earlier about how we tried to save money on travel and how we manage cash and credit cards abroad. The airfare has already been paid for (charged on the credit cards to earn rewards, of course).
Basically, I still consider myself doing well, but I guess it is hard to avoid what everyone else is experiencing. Shrinking 401(k). Dropping house value. Rumors of potential layoffs for part-time employees at work (who's next?). Lots of red in my net worth chart. 🙁 Fun times, eh?
You can see our previous net worth updates here.