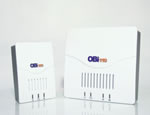 (Update November 2013: Google announced a few days ago that third-party apps like Obihai and GrooveIP will no longer work with Google Voice as of May 15, 2014. Obihai confirmed this on their official blog, while stating that your box will still be compatible with many other low-cost VoIP providers. It looks like Google wants people to do the free calling via their own apps…)
Original post December 2012:

Google has confirmed on their Official Gmail Blog that Google Voice and Gmail will continue to offer free calls to anywhere within the U.S. and to Canada through the end of 2013. Google continued its tradition of making their announcements very late in the year, although many people expect an advanced notice if they do decide to end this free service in the future (or risk some surprised and angry users). This handy service has been free since late 2010.
This should make the owners of the Obi100 (~$40) and Obi110 VoIP Telephone Adapters (~$50) very happy, as it allows you plug in any standard landline telephone and use Google Voice to make free phone calls. The more expensive model allows you to bridge a traditional POTS landline with your new VoIP gadgetry. The Obihai box has been around since January 2011.
If you don't have one yet, this means that for under $40 you can get at the very least one full year of free phone service including long distance, with no computer required (broadband internet access is required). There is a one-time $20 fee to port your existing number over to Google Voice. Reader experiences have been overall very positive, with easy installation and the monthly savings can be very significant.