If you still read newspapers like me, you may have come across an advertisement like this one recently touting an abnormally high 3-month or 6-month CD rate in last Sunday's issue: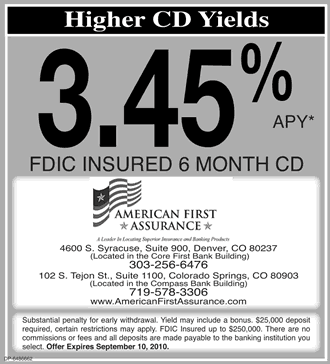 According to Bankrate, the current national average for a 6-month certificate of deposit is 0.37% APY, with their top yield being 1.25% APY. Highly-advertised Ally Bank offers less. So how can a tiny local non-bank that you've never heard of beat the rates of even online banks by over 2 whole percentage points?
It turns out that this is the newest version of the "free show tickets for timeshare presentations" marketing ploy. In this case, you must go into the office of an life insurance agent and listen to their sales pitch before getting the bank CD. Allan Roth over at CBS Marketwatch visited one of these offices and wrote about it. These non-bank salespeople are supplementing bank CDs from other FDIC-insured banks with their own money to reach the advertised rate. Questionable? Yes. Scam? Well, maybe not.
How It Works…
You respond to the newspaper ad, and the terms always require you to physically come over to their office.
After dealing with varying levels of life insurance and/or annuities salesmanship, you maintain your desire to open the account.
You write the check for the CD directly to an FDIC-insured bank, with which the sales office is not officially affiliated with. This CD has a realistic rate, say 1% APY or similar.
After a week or two, enough to make sure your funds cleared, the insurance people will cut you a check which together with the bank's interest, add up to the advertised APY (assuming they are still in business).
How Much Extra Interest?
But really how much money are they losing on this? If you buy a six-month CD with an annual percentage yield (APY) of 3.35% and commit $25,000, you'll earn approximately $418. With a APY of 1.25%, that is $156. The difference is $262. That's basically the "bonus" that they are paying to get you into the door.
The article by Roth was initially published more than 8 months ago, so that would suggest that this marketing ploy is working and the word is spreading amongst insurance salespeople. Now, I'm sure some people will call about the CD and either not have the $25k or otherwise decided not to go for it, so that improves their bottom line. I am pretty certain that their ad targets those with large cash balances looking for income-type investments, so that they can pitch annuities with seemingly safe and high yields.
Warnings
If you still want to invest in one of these bank CDs + incentives, you should be prepared to be presented with annuities that will actually seem to yield even more that their advertised 3-month CDs. They will be carefully packaged to look like a good deal. They will be described as "insured" and "safe" because they will be backed by an insurance company. The actual yields will be computed by a formula too complex for most math PhDs to fully understand.
Next, you should check if the extra interest is really worth it due to the fact that you'll have to deal with paper checks. If you are writing a check from a bank account that isn't earning interest, that is some lost days of interest right there. Since you'll be receiving the CD funds as a check as well, that's another few business days of potential lost interest. Use my handy Ultimate Rate Chaser Calculator to see your net interest boost.
Finally, you should be sure to only write the check to an FDIC-insured institution. You should interact with them directly to ensure safe transfer of funds and proper opening of account. Double-check the CD renewal guidelines, so you are not stuck rolling the CD over for another 3 months.
Here's a list of other companies that I found offering similar ads. Some are pretty shady in my opinion, and pretend to be an elite broker supplying high-yield bank CDs. Others are actually pretty transparent about the fact that they are offering a carrot for you to listen to their pitch. If you know of any others, please leave a comment below, and I'll add it to the list.
Sun Cities Financial Group (http://www.scfg.com)
First Fidelity Tax & Insurance (http://www.firstfidelityamerica.com)
American First Assurance (http://americanfirstassurance.com)
Integrifirst USA (http://integrifirstusa.com)
I personally wouldn't trust any of these guys with a $9.99 cut-n-paste GoDaddy website and a rented office with any of my personal details.