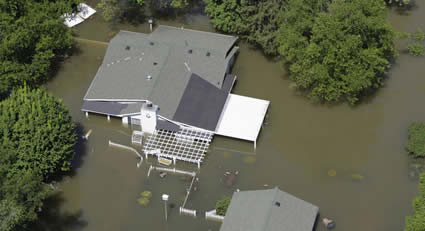 After reading about the recent flooding in the Nashville area, I again find myself reminding people to consider optional flood insurance. First, some background. Most homes that are in 100-year flood plains are required to buy flood insurance. This is because the banks know that this designation means that you have a 26% chance of a 100-year level flood within a 30 year span.
However, even if you are outside these areas, you may still be in danger of a serious flood. Often these areas are shown on flood maps as 500-year flood plains. Many people read this and think something like "…last flood was in 1909, we're good for another 400 years!" Actually, having a 0.2% chance of a flood each and every year works out to a 6% chance of occurring at least once over a span of 30 years, or 1-in-17. According to an article from from CNM News:
The flooding in Nashville has been deemed a "500 year" flood, as the Cumberland River rose to over 51 feet (floods occur at 40 feet). The flood waters took over portions of Downtown Nashville, as well as the Opryland area.
What if it happens to you? Most homeowner's insurance policies don't cover flood damage. More from BusinessInsurance.com:
The National Flood Insurance Program, which is run by the Federal Emergency Management Agency, may cover some losses experienced by businesses and homeowners that purchased the coverage. However, Mr. Costner and other insurance experts said flooding reached areas that are not federally designated flood zones. According to FEMA, Nashville and Davidson County, Tenn., had 4,100 NFIP policies in force as of March.
All of Nashville only had 4,100 policies? This means that not very many people were even required to buy it. This USA Today piece tells the stories of several riverfront homes that weren't covered.
Tiffany Wiggers says she doesn't have flood insurance and, in fact, she paid $15,000 extra to be closer to the river. "Everybody on this side of the street, we paid lot premiums to be near the river: $15,000. You have to laugh to keep from crying," […] She says she and her husband questioned the real estate agent, builder, lender and an insurance agent about flood insurance, but all said it wasn't necessary. "They all said, 'You're not in a flood plain, so you don't need it,' " recalled Wiggers for USA Today, who was taken from her home via rescue boat. "I was like, 'FEMA and the bank said we won't need it, so we're in the clear.'
If you haven't already, take some time and check if you are in a flood plain here. But it could be that the any flood maps are outdated or inaccurate. Add in some common sense if you are near a body of water. In the end, you may consider buying flood insurance even if you are not required to by your mortgage lender. We carry a modest amount of optional building coverage from the NFIP.