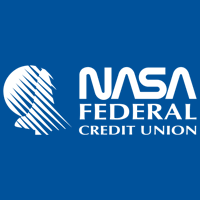 I recently joined the NASA Federal Credit Union to take advantage their current certificate rate specials (as mentioned in my monthly list of best interest rates). NASA FCU has had some good specials over the last year or so, and I finally decided to go through the extra effort to open an account last week since I had some funds available. Here are my notes on the application and certificate opening process that might be helpful to others.
Membership eligibility. NASA FCU's field of membership is open to affiliated people as noted in their membership page, but you can also join a special group to become eligible:
If none of the above apply to you – we'll provide a complimentary membership to the National Space Society (NSS) which entitles you to full NASA Federal membership benefits
Free and instant! Just click the proper option during the application process.
Application process. You will need to provide the usual personal information – name, address, SSN, driver's license, etc. I uploaded a scanned image of my driver's license. They also asked a few identity verification questions, I believe based on my Experian credit report.
Note: Based on online reports, I was expecting that applying for account would result in a hard credit inquiry, likely to my Experian credit report. This tends to be common practice amongst credit unions. However, it has been a week since my application and none of my credit monitoring services (which covers all 3 bureaus) have indicated that a credit check was done, including the one that tracks Experian. It might show up later, but nothing so far.
My account was approved later in the same day as my application. I also read some online reports about NASA FCU asking for additional documentation (i.e. Social Security card), but I was not asked for anything additional.
Tip: When you get the account approval e-mail, you need to open up the secure message to see your new NASA FCU account number. Write down this number as it is the account number of your share savings account.
Initial funding. As with nearly all credit unions, you must fund a share savings account with at least $5 and keep the $5 there. I was given the option to fund with credit card (up to $500) or bank account. I tried to fund it with $500 from a rewards credit card (to get some cash back), but the transaction was rejected. I'm not sure if it was because it was trying to go through as a cash advance, or some other reason. I later funded it with a bank account instead.
Opening the certificate special. This time around, I opened their special 15-month certificate at 3.20% APY via this page. After doing so, there was a message directing me to fund it with a mailed check to a specific address with 10 days: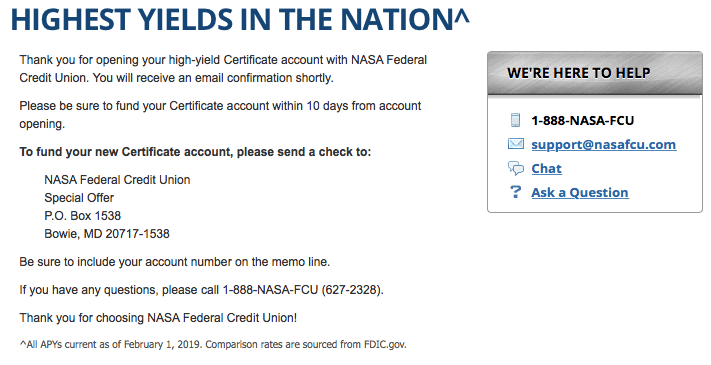 There may be other options like walking in a check or using a credit union shared deposit network, but I like to do things online whenever possible. My usual process is to link my new credit union with my Ally savings account hub. First, I used the account number from the approval message (see above) and the NASA FCU routing number of 255077833. I had to use the 2 small test deposit method for verification, so that took a day. Then, Ally let me push funds with a 1-day transfer into the savings account. Finally, I used the NASA FCU Live Chat feature to have them fund my special certificate using the funds in the share savings account. Here's my timeline:
Day 1 – Started application and got approval. Initiated link via Ally Bank.
Day 2 – Verification deposits arrived at NASA FCU. Verified link via Ally Bank. Initiated transfer.
Day 3 – Funds arrived at NASA FCU. Used Live Chat to fund certificate.
Day 4 – Certificate open and funded.
The share certificate now shows up on my online banking page, right next to the share savings account. I didn't have to mail in anything, like a signature card. I hope that NASA FCU keeps up their trend of offering top certificate rates.