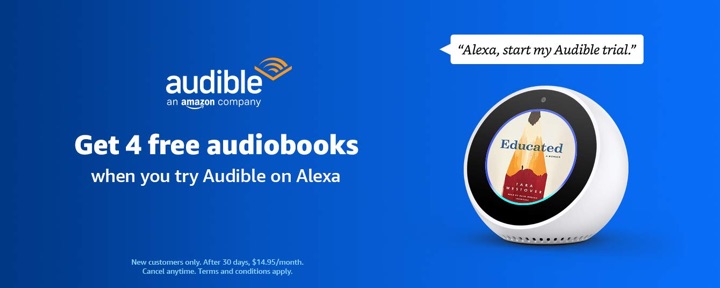 If you have any Amazon Echo device, you can start an Audible trial by simply saying "Alexa, start my Audible trial". This will start a 30-day free trial, but through February 8th, 2019 at 4pm PT, signing up in this voice manner will get your 4 free Audiobook credits, not the usual two. Even better, I have been an Audible trial member before, and I was still eligible for this promotion. Here are the promotion details.
Offer valid from 2/1/2019 at 12:00 a.m. PT until 2/8/2019 at 4:00 p.m. PT or while supplies last. Offer available only to new Audible customers who sign up for an Audible trial on an Alexa-enabled device through voice sign-up. You will receive a 1-month Audible free trial that includes 2 credits as well as an additional 2 bonus credits (for a total of 4 credits). At the end of the free trial, your membership will continue until cancelled at the then current full price (currently $14.95 per month) with your designated credit card or another available card on file. Cancel anytime by visiting the Account Details page.
I just signed up and saw the 4 free credits in my account online immediately. I believe that you need an active account to redeem credits, so I would recommend redeeming them all in the next 30 days if you don't wish to keep up the membership (purchased audiobooks stay in your account forever, no matter what).
I used to buy personal finance and business books on Audible, but I disliked how I couldn't make highlights and take notes while listening. Nowadays, I mostly listen to biographies and memoirs. My most recent purchases were The Magnolia Story by Chip and Joanna Gaines (Fixer Upper) and The Last Black Unicorn by Tiffany Haddish.