This week was filled with wonderful firsts. I had:
my first time cowering for an hour in the fetal position,
my first emergency room visit,
my first morphine shot,
my first CT scan,
…and my very first kidney stone!!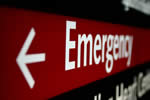 Ironically, I was just talking to a friend about how they planned to quit their corporate job and wander around the world for a while, working odd jobs like ski resort seasonal worker, bartender, or barista. Being the ever-practical geek, I pointed out that she should be sure to buy some health insurance or use COBRA. "I'll just be real careful", was the dreaded reply. Careful only gets you so far… (And I'm still waiting on my stone to pass!)
I haven't gotten the hospital bill yet, but I'm sure it would be thousands of dollars without insurance. I'll have to do the math and see if my decision to stay on my wife's employer plan for $200 a month instead of going for the high-deductible HSA plan for $100-$150 per month was a good idea mathematically.
According to this PBS article Young Adults Fastest-Growing Group of Uninsured, the out-of-pocket costs can be pretty crazy:
Average day in hospital: $7,157
Burst appendix: $48,151
Fractured ankle, and a tib-fib fracture: $101,790
Geez, now I really want to see my bill.