Mortgage rates for 30-year fixed loans are at the lowest level in three years, according to this Bloomberg article:
The average rate for a 30-year fixed mortgage was 3.58 percent, down from from 3.59 percent last week and the lowest since May 2013, Freddie Mac said in a statement Thursday. The average 15-year rate slipped to 2.86 percent from 2.88 percent, the McLean, Virginia-based mortgage-finance company said.
This is visually confirmed by this historical rate chart from HSH.com: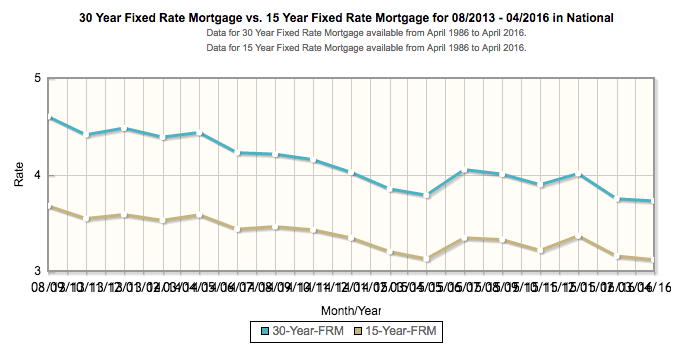 Depending on your area, your home value may also have increased over this time period. Combine these two, and it may be a good time to check if a mortgage refinance can save you some big bucks over the term of your loan. You may lower your interest rate, shorten your term into a 15-year mortgage, and/or get rid of private mortgage insurance.
Comparison shopping mortgage rates. There's average, and then there is what is actually being quoted for people in your situation. The Consumer Finance Protection Bureau (CFPB) has a nice Owning a Home resource page including a new rate data tool that takes into account your credit score, state of residence, house price, and down payment size to see what other interest rates people are getting. I like they show an actual distribution of rates and the number of lenders offering that rate: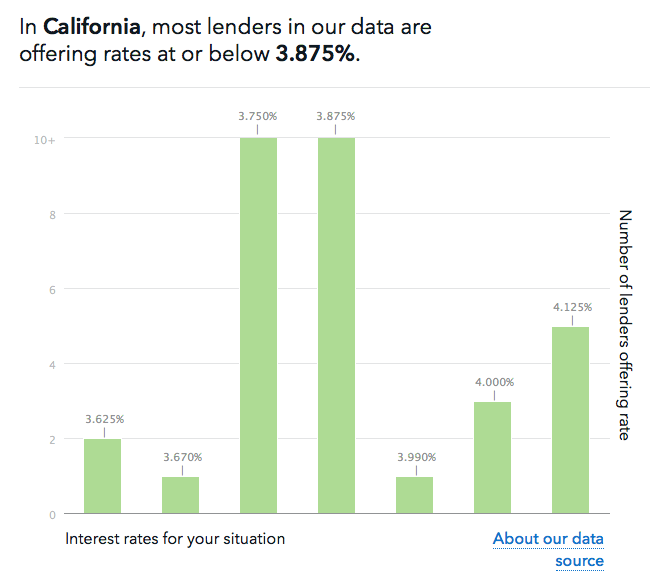 You can try the big networks like and Quicken Loans
, or you can ask around for a referral to a reputable local broker. The CFPB recommends that you get quotes from three or more lenders. You should get an standardized 3-page form called a "Loan Estimate". That way you can compare and even negotiate one off the other.
Get quotes from three or more lenders so you can see how they compare. Rates often change from when you first talk to a lender and when you submit your mortgage application, so don't make a final decision before comparing official Loan Estimates.
Depending on your situation, you may face a lot of paperwork during the mortgage approval process. But hopefully the money saved will be worth it.
Think mortgage rates might go even lower? I don't recommend playing such guessing games, but you could keep an eye on 10-year Treasury rates. Here's an interesting chart comparing the 10-year Treasury yield and 30-year mortgage rates from Calculated Risk: