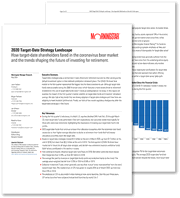 There are now trillions of dollars held by Target Date Funds (TDFs) inside employer-sponsored retirement plans like 401k's and 403b's, but you still don't see much coverage on them in the financial media. Perhaps they are too boring to grab clicks or too unprofitable to market to individuals. Morningstar just released their 2021 Target-Date fund report (email required), and this year it seems even more focused on the employer institutional side and less on the actual employees that use it. However, Christine Benz (also of Morningstar) makes up for this with her article In Praise of Target-Date Funds.
Oftentimes, target-date critics are selling some type of investment advice themselves; they may not admit it, but they view target-date funds as competition.

My second thought when I see target-date funds coming in for criticism is to wonder: Are you seeing what I'm seeing? Because from where I sit, target-date funds have been nothing short of the biggest positive development for investors since the index fund.
Here is a summary of the benefits of Target Date funds:
TDFs take advantage of the behavioral inertia that encourages inaction during times of crisis. There was relatively little TDF selling activity during the March 2020 market drop. In fact, the automatic rebalancing may have improved returns compared to self-directed investors.
TDFs provide reasonable investment advice for a very low cost, and investors actually follow it. You get an age-appropriate asset mix which gradually gets more conservative over time, and the default is that people follow the advice. Many people would otherwise not be able to afford or seek out similar quality advice, and many people who can afford it don't follow it.
TDFs will automatically improve over time, thanks to the trend toward lower costs over time and the accessibility of new asset classes as technology and costs also decrease.
Here are some broad takeaways from the Morningstar industry report:
The COVID-19 pandemic lowered overall retirement savings contributions by an estimated 60% when you compare 2020 net contributions vs. 2019 net contributions. This unfortunate result was due to a combination of company's suspending or lowering employer contributions and workers lowering their salary deferrals.
Assets continue to flow from higher-cost TDFs to lower-cost TDFs. For example, Fidelity Freedom Index funds have gained about $50 billion in assets over the last five years, while the more expensive, actively-managed Fidelity Freedom funds have lost $35 billion during those same five years.
Competition is good. The BlackRock LifePath Index series collected the most net new money among target-date series. 2021 is the first year since 2008 that Vanguard Target Retirement hasn't won that title. There is now a lot of competition in the low-cost, well-diversified, index-based TDF arena.
Curious what's inside your Target Date fund? Here is the average glide path across 53 different TDF series. (M* didn't update this chart for 2021 again, so this is taken from 2019 report.) On average, most TDFs have an asset allocation close to 90% equity and 10% bonds in the early years, with the equity percentage dropping (and bond percentage rising) as time goes on. At the year of retirement, the average asset allocation is roughly 45% equity and 55% bonds.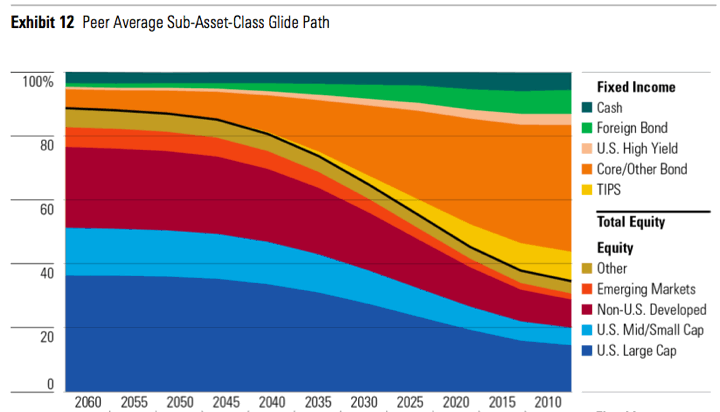 One important option to remember is that you don't have to choose the TDF corresponding to the date that you turn 65. If you wish, you can pick a different year to somewhat adjust your risk level.
Gold or Silver-rated Target Date Funds. A detailed explanation and full rankings are in the report. Here are the gold/silver-rated funds for 2021:
Blackrock LifePath Index
Blackrock LifePath Dynamic
PIMCO RealPath Blend
JPMorgan SmartRetirement Blend
JPMorgan SmartRetirement
T. Rowe Price Retirement
MassMutual Select Retirement
Fidelity Freedom Index
Fidelity Freedom
State Street Target Retirement
Vanguard Target Retirement
American Funds Target Date
Bottom line. Target Date funds (TDFs) are probably under-appreciated for the benefits that they provide. For the most part, workers don't get to choose which TDF series they can invest in, so there is little point worrying about slight differences in glide paths, recent performance, or Morningstar ratings. As long as you have one from a reputable firm with reasonable costs, you are receiving the major benefits of TDFs listed above. People who "satsifice" by settling for "good enough" tend to be happier in life than "maximizers", so perhaps that extends here as well.
(If your fund is one of the bottom-dwellers, you may want to send this report to the HR department. Employee activism are part of the reason that these options are getting better over time.)