Morningstar recently started publishing their Morningstar Lifetime Allocation Indexes, which are designed as benchmarks for mutual funds that shift their asset allocation as a target retirement date nears. An example is the Vanguard Target Retirement 2045 fund (VTIVX), a buy-and-hold fund designed for those retiring around the year 2045.
Created using historical performance data with Ibbotson Associates, the indexes provide asset allocations that are optimized based on Modern Portfolio Theory. The asset classes included are US and international stocks, US and international bonds, inflation hedges like TIPS and commodities, and cash. However, the interesting part is that their "efficient frontier" optimization model incorporates the idea of human capital, which is defined as the present value of a person's future earnings.
Here is a chart from their factsheet explaining the idea (click to enlarge):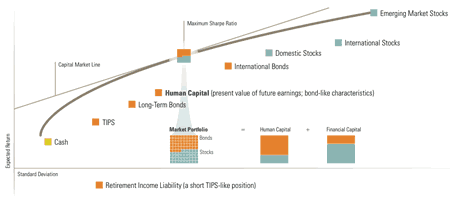 Accordingly, there are 13 indexes with three different risk profiles – aggressive, moderate, and conservative. It is recommended that you choose the proper profile not based on your love of risk-taking, but based on the quality of your human capital:
Human capital is defined as the present value of a person's future earnings. This ability to work and earn money over time is like a giant bond that provides fairly stable cash flows. The human capital bond is not investment-grade for all investors however. Some investors have stable income streams and thus should have a higher capacity for market risk. Others have income streams that are more sensitive to economic conditions and should therefore have a more conservative financial asset allocation.
Without further ado, you can view all the asset allocations here. I'll probably make a nice graph out of this later. For now, let's say I wanted to retire at about age 50 in the year 2030, and I feel my human capital is moderately stable. The Moderate 2030 asset allocation looks something like this:
84% Stocks
— US 57%
— International 27%
10% Bonds
— US 10%
6% Inflation Hedges
— Treasury Inflation-Protected (TIPS) 1%
— Commodities 5%
I don't really have any further thoughts on it, besides the fact that I don't think we should necessarily base everything on historical returns. It might be better to try and figure out the source of those returns. Otherwise, it's just another data point to add to the many model asset allocations out there.