Thanks for all the diverse and interesting insights on teaching kids about money, I learned quite a few things myself. As I was trying to think back and remember what I personally learned – or wish I learned – about money in 6th grade, a couple of amusing stories came to mind. They may not be all that helpful to young folks (quite possibly the opposite), but I'll share them anyway since I am curious to see if others had similar experiences.
Flips and Underage Gambling


The allure of gambling knows no age limit. For those that haven't heard of it – I have no idea how widespread it was – "Flips" is a simple game where first one person flips a coin, and then the second participant flips another coin of the same type. If the coins match, either both heads or both tails, then the 2nd person wins both coins. If the 2nd coin does not match, the 1st person wins both coins. Quarters seemed to be the coin of choice. For a while I was regularly losing or winning a few dollars each day playing Flips, which was a lot of money to me at the time.
The main idea was for the 2nd person to be able to control Heads or Tails, with each us having a secret flipping "method" much like craps players have when throwing dice. As the game got more and more popular, people would start to create their own cheats. One kid brought a double-sided quarter with heads on both sides to school. He was promptly beat up and the quarter was stolen, never to be found again. After that, we started to check coins. 🙂 In addition, the more adventurous kids would even play with dollar bills, and people quickly found that folding the bills a certain way would help the bill land on a certain side. Lots of new ground rules were made up on the fly.
Lessons learned? During a particularly bad losing streak, I was unable to eat lunch for a couple days. I stopped playing cold turkey. What did I learn? Gambling is a rush, but that's not always a good thing. Someone else is always trying to gain an edge, fair or unfair. Don't bet what you can't afford to lose.
Pre-teen Candy Mogul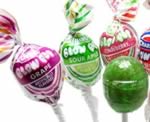 My second memory was of a 12-year old entrepreneur. Chip was a kind of a big kid, he looked like he had been held back a grade once and could have easily been the school bully. Instead, he sold us candy. I remember in particular he sold Charms Blow-Pops for 25¢ each and Crybaby Extra-Sour Gum and Atomic Fireballs at 10¢ each. I was a regular customer, as was most of our school. His backpack was 80% candy and 20% books.
I remember thinking he was pretty smart back then, but as an adult I am even more impressed.
He had a monopoly. Who else could sell candy directly to kids at school? Competition is also rare when you weigh 20lbs more than everyone else. Besides, it was against the rules, and I was too scared to try and pull something like that off.
Smart pricing. He chose simple pricing, and at about the same price as 7-11 convenience stores. He even gave discounts for bulk purchases – instead of 10¢ each, you could get 3 for 25¢. Instead of 25¢ each, you could get 5 for $1. Even us slower folks could figure out that was a better deal.
Smart buying. I even recall running into him at Sam's Club buying candy. I would guess that's as close to wholesale as you can get as a 6th grader. This also meant that his parents were in on the scheme, or even encouraged it?! Ethicists would go nuts.
Running rough numbers in my head, I would say he maintained a 100% profit margin markup on all his candy. That gum couldn't have cost more than 5 cents apiece. He probably made around $10-$20 a day in net profit, tax free! Sure, this was probably illegal in various ways – no business license, on school grounds, too young, non-existent tax reporting – but I like to imagine Chip as the CEO of some huge multi-national corporation now.
Is it bad that both of these stories involve illicit activities?