Since we just made our IRA contributions for 2007 recently and had made a few mutual fund exchanges, I figured this was a good time to post another portfolio snapshot. Since we have so many different accounts now, I changed the presentation layout a bit to clean things up.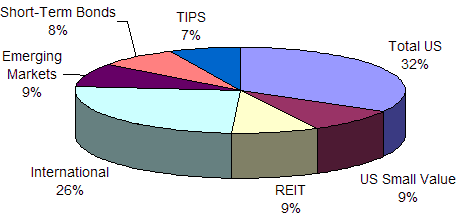 Retirement Portfolio
Asset Class / Fund
$
%
Broad US Stock Market
$38,836
32%
VTSMX – Vanguard Total Stock Market Index Fund
DISFX – Diversified Stock Index Institutional Fund
DODGX – Dodge & Cox Stock Fund
US Small-Cap Value
$10,480
9%
VISVX – Vanguard Small Cap Value Index Fund
Real Estate (REITs)
$10,017
9%
VGSIX – Vanguard REIT Index Fund
Broad International Developed
$29,925
26%
FSIIX – Fidelity Spartan International Index Fund
VDMIX – Vanguard Developed Markets Index Fund
International Emerging Markets
$10,198
9%
VEIEX – Vanguard Emerging Markets Stock Index Fund
Bonds – Short-Term
$8,989
8%
VFISX – Vanguard Short-Term Treasury Fund
Bonds – Inflation-Indexed
$8,260
7%
VIPSX – Vanguard Inflation-Protected Securities Fund
Total
$116,705
Contribution Details
Through the end of 2007, we maxed out the salary contributions of both of our 401k/403b plans and put in $15,500 each. We didn't qualify for a Roth IRA contribution in 2007, but after exploring the options of a non-deductible contribution to a Traditional IRA, we decided to go for it and put in $4,000 each in early April. For 2008, my wife has contributed about $5,000 so far to her 403b and is on track to max out again. I'm lagging a bit behind, but should catch up later in the year.
YTD Performance
The 2008 year-to-date time-weighted performance of my personal portfolio is -1.96% as of 4/18/08. Although not necessarily a benchmark, the Vanguard S&P 500 Fund has returned -4.77% YTD, their FTSE All World Ex-US fund has returned –3.47% YTD, and their Total Bond Index fund has returned 1.32% YTD as of 4/18/08.
Portfolio Construction Details
We followed the general asset allocation plan outlined here. I went ahead and moved forward to a 85% stocks/15% bonds split since I base it on the formula [115-Age] and I'll be turning 30 in a few months. Here is an example of how we implemented the asset allocation across multiple accounts, although I've since moved some funds around. It's definitely not an exact science, we just did the best we could with the fund choices available.
You can view all my previous portfolio snapshots here.