While I don't believe everyone necessarily needs a tracked-down-to-the-dollar budget, I do think a major problem is that many people simply don't know where their money goes. That makes it quite hard to know if your spending habits match up with your priorities. I've been using Mint.com (free, ad-supported) to track our household spending for a while. (I used to be a Yodlee guy, but they've been left behind with slow and clunky updates.) For those starting out, here are some practical tips that may be useful.
Using Credit and Debit Cards
The primary advantage of using a service like Mint.com is that if you pay for things with a linked credit or debit card, then important stuff like the date, merchant, and amount are immediately recorded so you don't have to do it manually. No receipts, no typing, no writing. That's a lot of time and mental energy saved.
Auto-categorization Training
After Mint imports your transaction information, it will provide its best guess as to the proper spending category. McDonald's will be "Fast Food", for example, but it also thought my water company was a clothing store. You can correct the category, and also create a rule that always changes the category to what you prefer. For example, I always set Sam's Club and Costco as "Groceries" because that's mostly what I buy there.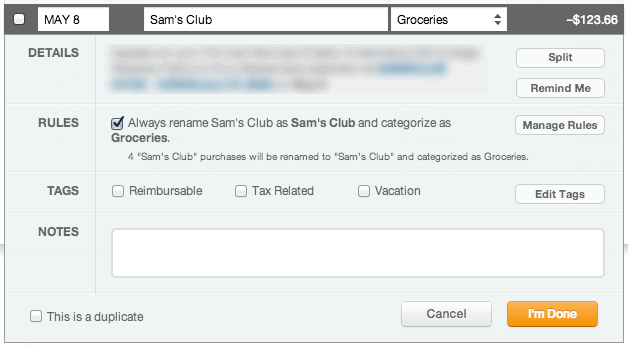 After a couple of months, you spend less and less time fixing categories. In general, I try to make things fit into just a few simple categories: Food, Auto, Utilities, and Shopping. (You can also manually enter cash purchases, but simply set all ATM withdrawals to be "Food/Restaurants" by default.)
Splitting Transactions
If I do buy something notable and non-grocery like a $50 faucet fixture or something at Costco, I can always split the transaction into two or more separate categories: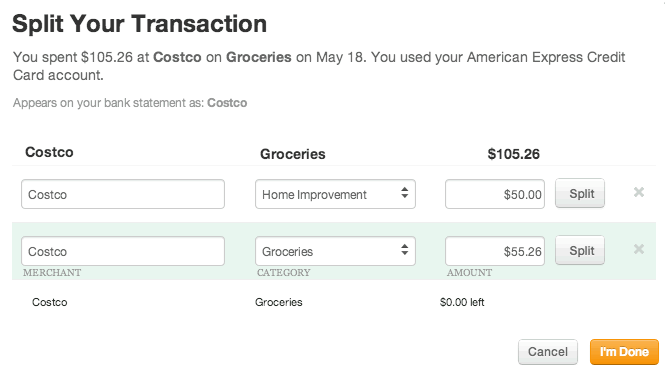 Exclude from Mint
There are some things that Mint doesn't handle that well, or you simply don't want Mint to track. For this, use the "Exclude from Mint" category. I prefer to have Mint ignore all my retirement account contributions, interbank funds transfers, and estimated tax payments. This cleans up the data and allows me to focus on the spending.
Trends
Out of all the top-level sections, I spend most of my time in "Trends". That's where the nifty charts live! I usually start with the "Spending by Category" pie chart. From here, I can edit individual transaction categories, see quickly if something is out of whack, and compare spending across different time periods.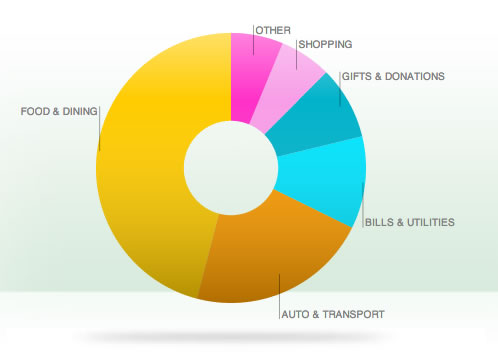 Budgets and Alerts
If you'd like to set a spending target on certain categories like Restaurants or Shopping, then the Mint "Budget" section is nice because it can track your spending against the limits for you and even send an e-mail/text alert if you exceed it. If want to use this to continuously monitor your spending, I would recommend downloading their smartphone or table apps to make it easier to check in.

Security
You may be rightfully nervous about sharing your login credentials, but in my opinion your credit card login is not as sensitive as say, a bank login. Unauthorized credit card transactions are easily disputed, and these days it seems like online stores are more likely to lose your credit card details anyway. I'm less comfortable giving out my banking information, so I choose not to link my primary bank and investment accounts with Mint. (I do link some lesser-used accounts, just to keep an eye on them.) Mint.com is also owned by Intuit, makers of TurboTax, so they should have some experience in keeping personal data safe. I haven't had any issues either way.