The current issue of the Journal of Financial Economics has a new paper titled Millionaires speak: What drives their personal investment decisions? about how millionaires invest their money (via Alpha Architect):
We survey 2,484 U.S. individuals with at least $1 million of investable assets about how well leading academic theories describe their financial beliefs and personal investment decisions. The wealthy's beliefs about financial markets and the economy are surprisingly similar to those of the average U.S. household, but the wealthy are less driven by discomfort with the market, financial constraints, and labor income considerations.
To be honest, I found most of the stated "beliefs" to be rather unsurprising. I'd rather just see what they actually own, which is revealed in this table: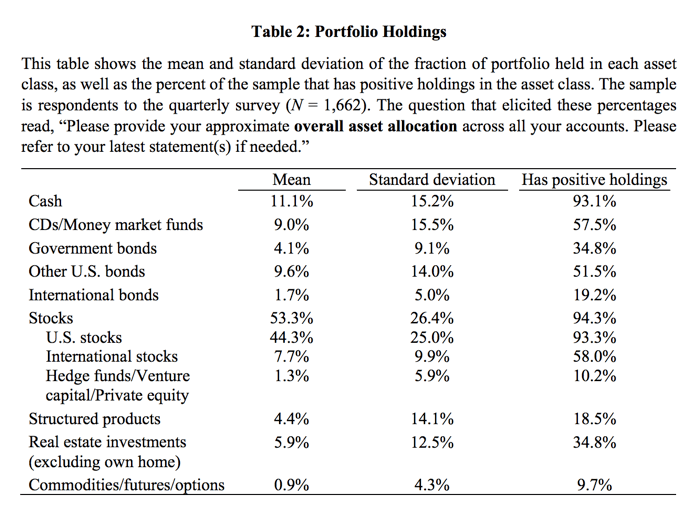 I've gone ahead and simplified and rounded-off the averages above into a pie chart: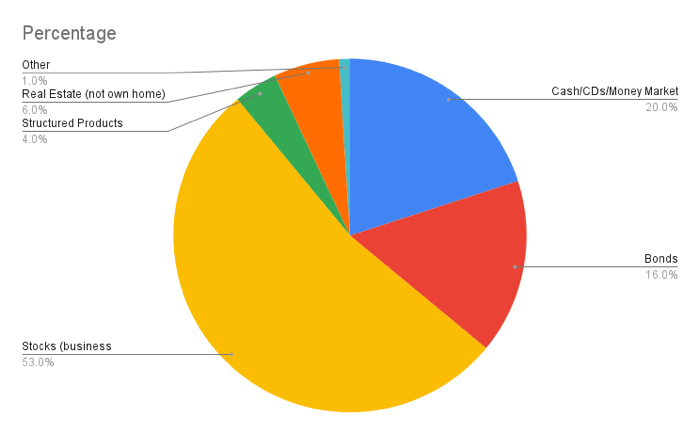 Over 1/3rd of the assets of millionaires are held in either cash, bonds, or the equivalent. The rich certainly have their riskier business ownership assets, but they also have a lot of cash. This is somewhat surprising since you'd think the rich wouldn't need that much free cash lying around, but perhaps they feel that to stay a millionaire, you have to survive all the emergencies and liquidity crunches that inevitably occur from time to time.