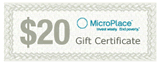 Just got an e-mail from MicroPlace that they are running a gift certificate promotion where if you buy a $20 GC, you get another $20 GC free. The gift recipient can then lend out the money to a poor entrepreneur and receive interest + $20 back later. Since the person actually gets the money back (or at least most of it assuming some defaults), and thus isn't the same as a "$XX has been donated in your name" gift, I think it's a cool twist on gift cards.
Give a Gift that Keeps on Giving
Give a unique and special gift this holiday season. It is a gift of connection, a gift of hope, and a gift that believes that poor people can use their ingenuity and hard work to break out of the cycle of poverty.

Your gift can help fund loans to poor people who could start a business, save, and work their way out of poverty. And when you purchase a gift certificate of $20 or more on MicroPlace, we'll give you a free gift certificate of $20 to send to someone else on your shopping list!
To learn more about Microplace check out these posts, including my last microlending update.