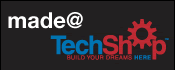 Do you dream of working for yourself instead of "The Man"? Indeed, early retirement and/or financial independence is often achieved by successful small business owners. In addition, any retirement plan will be more robust if you can earn some extra money on your own as needed. As such, I definitely support the growth of freelancers doing their own thing. However, you may hit roadblocks like loneliness, distractions at home, or lack of resources.
The good news is that there are a growing number of places for those with the entrepreneurial spirit to share and collaborate with others for mutual gain. Live in a studio apartment? No problem.
Coworking, or shared working environments. These are basically large community office spaces where you can get a desk, couches, and fast internet connection so you can work around others doing the same thing. No more coffee shops! They tend to be informal, where you can work alone or network/chat with others. It can also serve as a very cheap office where you can hold meetings with clients, or places to meet up in strange cities. You can usually just search for "coworking [your city]" but here is a directory.
Techshops / Cooperative Fabrication Shops. Are you thinking of selling something physical, like iPhone cases, custom skateboards, crafts on Etsy, or wood furniture? Wouldn't it be great if you had your own CNC machine, commercial-grade sewing machines, or professional woodworking equipment? Techshops are a growing chain of membership-based workshops that provide quality tools and equipment that most individuals don't have access to. You'll also find classes and lots of knowledgeable people willing to help you learn to use the machines. Not too shabby for as little as $99 a month.

Besides Techshop, you may find independent locations like Knowhow Shop LA or Maker Place in San Diego. Many more are trying to start themselves up and looking for members.

Fab Labs. These are "digital fabrication facilities", initially started at MIT but now found around the world, where you can make higher-tech finished products using 3-D milling machines for circuit boards and laser cutters for press-fit construction of parts. (Directory)
Tool Lending Libraries. If your needs are more modest, see if your community has a tool library where you can borrow tools. You can find landscaping gear, table saws, power tools, etc. (Directory)
Most of these places have membership fees, but they are usually flexible to account for the regular or occasional user. Look into them and you may be surprised at what is available near you. Even if you're just a frugal person that likes to DIY, these are also great places for makers and tinkerers.