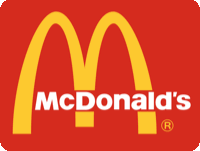 Despite their negative media attention, the McDonald's franchise that I drive past every day is packed all the time. I rarely eat there (especially since my diet bet), but I used to think to myself that if I were going to buy a franchise, I'd buy a McDonald's. My impression was always that McDonald's were always pretty clean with consistent food (even if you consider it consistently unhealthy), while Burger King's were often dirty with inconsistent food.
A common knock against purchasing a franchise is that you are "buying a job". A recent Businessweek article broke down the gross sales, gross profits, and net profits of the average McDonald's franchise in the US. I found the numbers very interesting:
Average annual profit per franchise: $150,000 a year, roughly. Okay, but how much does this franchise cost? From the official McDonald's franchise website:
Initial Costs
$45,000 Initial Fee paid to McDonald's

Equipment and Pre-Opening Costs
Typically these costs range from $944,352 to $2,172,045. The size of the restaurant facility, area of the country, pre-opening expenses, inventory, selection of kitchen equipment, signage, and style of decor and landscaping will affect new restaurant costs. These costs are paid to suppliers.
Average cost of new franchise: At least $1 million roughly, with a minimum of $500,000 in cash and non-borrowed resources. Other sources state $750,000 minimum in liquid assets. You must be able to cover 40% of the costs of a new franchise location. You must be able to pay cash for at least 25% of the cost of an existing franchise, with the rest financed over at most 7 years.
Average hours of work per week as an owner/operator? I could not find reliable statistics, but here is an excerpt from a Reddit AMA from a businessperson from New Zealand who has owned a total of three McDonald's franchises and recently sold the last one.
How much work was required of you per week on average? If my goal were to own one McDonalds and do the minimum amount of work possible, while also running it well, how low do you think I could get that weekly number of hours? And what would I be doing in that time?

I would work 9am – 5pm, 6 days a week. Mostly I'm at my office sorting problems remotely from there. I liked to pop down to my couple stores at least a couple times a day and check on them – make sure they're clean, and to check on the Restaurant Manager about any issues. Typically I used to work hard for 4-6 hours a day, with the rest out in the stores just checking on them.
Exit / Selling price? One would imagine that if your franchise is doing well and churning out good numbers, someone else would readily buy it. If your business is struggling, then both your annual income and total business value will drop. The same Reddit user above reported selling for "just above" NZ $1.4 million, or US $916,000. I'm a bit confused by the purchase price, but it appears that he paid NZ $550,000 via business loan, 12 years ago.
In the end, owning a McDonald's franchise is still a business which means you take on risk for potentially significant gains or losses. But if you spend 40 hours a week and only keep tabs on one location, it might really feel like you bought a job. These statistics help explain why most franchisees own multiple locations; Businessweek says the average is six.