You may have read that a Princeton University study by Deaton and Kahneman found that people were more satisfied with their life as their income rose, but only until about $75,000 a year. After that, higher income did not result in greater happiness. Doug Short of DShort.com extended this $75,000 number and adjusted it by the cost-of-living for all 50 states. The Huffington Post in turn converted that table into a nice pretty infographic map. I've mentioned this finding before and readers pointed out that $75k goes farther in some places compared to others, so it is shared below.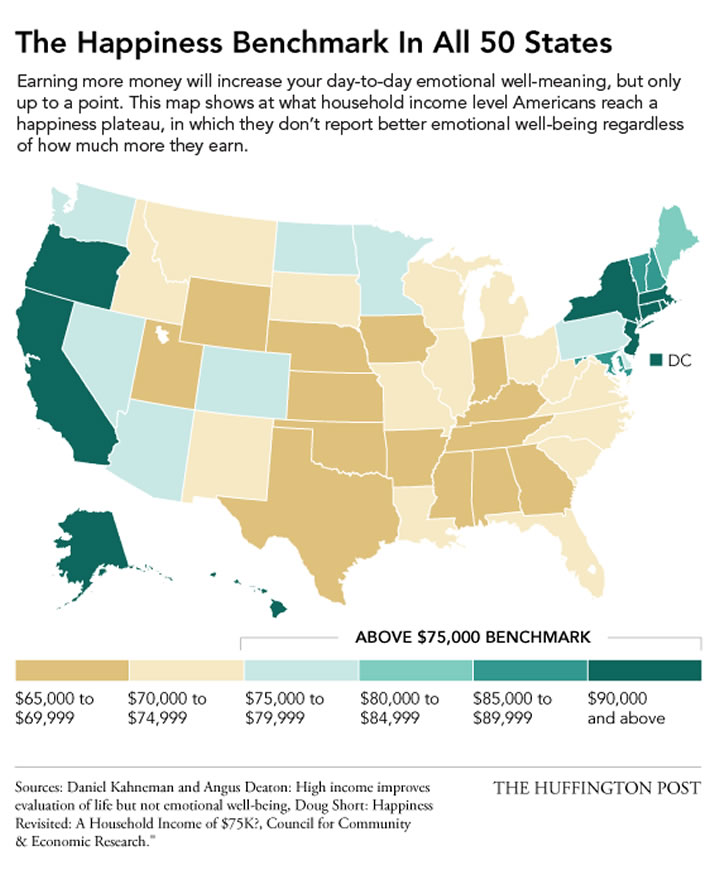 Money can only buy happiness up to a point. But just how much you need to get to that threshold really depends on where you live, according to a new analysis by Doug Short, vice president of research at investment group Advisor Perspectives.

Short's analysis found that if you live in a place like Hawaii, where the cost of living is relatively high, a household needs to make $122,175 per year before some extra cash doesn't really translate into more happiness. In Mississippi, by comparison, the threshold at which more money stops making you happier is a lot lower: $65,850 per year.
Of course, the next link on HuffPo was… More Money Always Leads To More Happiness: Study