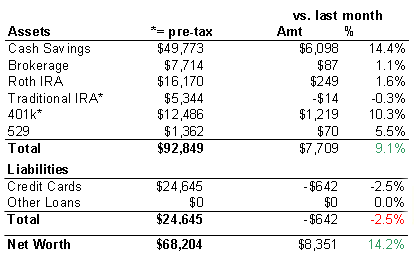 (Update: I just want to clarify that all my credit card debt is either at 0% interest or will be paid off this month. To learn more about why I do this, please see this entry.)
I was actually in a mild panic last night, while I was compiling this information. For some reason I couldn't balance everything out, and a few thousand dollars was missing somehow. Did one of my online transfers not make it to the receiving bank? After wasting an extra hour or two checking all my statements, it ended up being a simple formula error in my Excel spreadsheet. Whew. Maybe I should switch to that MSN Money I bought soon…
First, the numbers. Our net worth increased by $8351 since last month's snapshot. My non-retirement funds now total $34,204, an increase of $6897. As usual, a couple things skew the results. On the plus side, I have had a $5,000 savings bond sitting in a safe deposit box since 2003 that I forgot to include in the calculations, but am including now for completeness. My annual bonus also posted this month.
On the minus side, I misread our contract and our landlord wants both first and last month's rent ahead of time, so we shelled out another month's rent this month. Just have to remember not to pay it again when we leave. We also probably spent a couple hundred on home improvement and decoration items this month to spruce up our new place. We could've done better, but overall I am satisfied with the results.
Looking forward and considering my Mid-Term Goal, we have $65,772 left with 28 months to go. This equates to $2350/month, which I think is within reach, but it won't be easy.