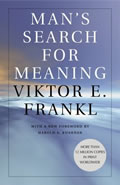 Viktor Frankl was a respected doctor and therapist before he became a concentration camp prisoner during the Holocaust. After somehow surviving the unthinkable only to find that he had lost both his parents and his pregnant wife, he wrote the book Man's Search for Meaning.
I've visited the Dachau concentration camp, but reading this book was so much more vivid. You're not just sent somewhere to die. You're forced to relocate to a "labor camp", and so you pack up your entire life into a few bags. Your bags are confiscated, so you hide some photos or jewelry in your clothes. You are stripped completely naked, and given a dead man's rags to wear. You don't even have a name anymore, you're just a number (Frankl was 119104). And this is before the coming years of physical and mental torture.
With this background, Frankl introduces logotherapy, a form of existentialism that says that humans are driven not by the pursuit of pleasure (Freud) or the pursuit of power (Adler), but the pursuit of meaning. There are three ways to achieve meaning:
Creating a work or doing a deed,
Experiencing something or encountering someone (love),
By taking a proper attitude when faced with unavoidable suffering
This last part is hard to explain unless you read the book, but the unavoidable part should be emphasized. We're not talking about "pain is good". In my mind, I think of it as maintaining honor and self-respect no matter what. Frankl writes:
Everything can be taken from a man but one thing, the last of the human freedoms — to choose one's attitude in any given set of circumstances, to choose one's own way.
He also quotes Nietzsche, "He who has a Why to live for can bear almost any How."
How does this relate to personal finance and the pursuit of financial freedom? I think of it in two ways. First, in terms of yourself. We are all attracted to material things like houses, cars, clothes, and I'd include money. Imagine if all that was taken away. You'd still have your body, your mind, your unique meaning and purpose in the world. We should develop those things. The things you've learned, your memories, your experiences, your skills, all those can't be taken away. All the good deeds that you have already accomplished, those also can never be taken away.
Second, it relates to motivation. Why do you want more money? Why do you want financial freedom? Is it enough to just want to avoid work? Maybe your goal is to spend time with your loved ones. Maybe you want to create beautiful art. Maybe you want to build an orphanage in Cambodia. Maybe you just want to try every ramen restaurant in Japan.
I have some meanings that I am pursuing, but I'm still searching for others.