Thinking about investing in P2P loans? Even though I still believe that decent returns are possible, I think it is important to have realistic expectations. I've given out the following warnings since they started:
You won't get the stated interest rates on your loans. Let's say the loans you invested in are charging 12% interest to the borrowers. First, there are fees to pay. Second, these are unsecured loans to faceless individuals on the internet. You don't get to repossess a house or even a car. All you can do is hurt their credit score. They could empty their bank account and walk away the next day. Defaults are gonna happen; you should expect it.
Your reported return will decline over time. I see many people who have loans being very happy about their 10% reported returns after a year or so. Well, expect it to drop 1 to 3% or possibly more by the time the loans actually finish their full terms. If you keep rolling over your interest into new 3 year loans, that means your average loan age will likely remain around 1.5 years (often even younger due to high prepayment rates).
Recently, LendingClub started showing this on their performance and statistics pages:
This chart illustrates how returns typically decline over the life of an investment. If your account is relatively new, it is likely that your returns will decline over time as some of your Notes become past-due and charge off. This chart is not a prediction of how your portfolio will perform and actual results may vary.
Here's the chart with a focus on the beginning (3-9 months = 9.8% median return):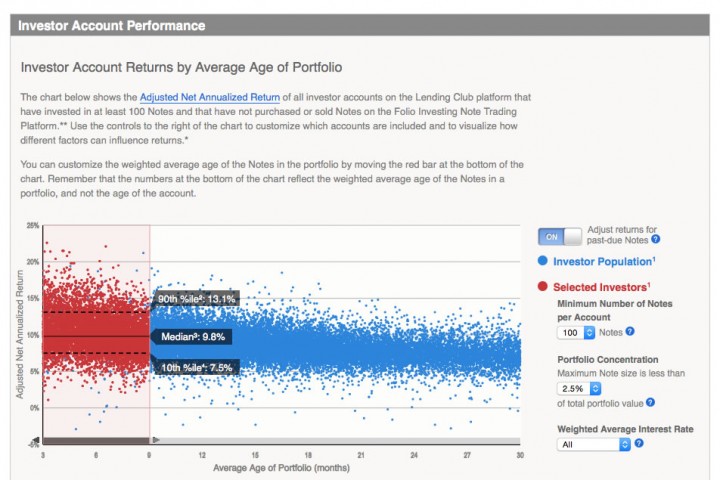 Here's the chart with a focus on the end (24-30 months = 7.2% median return):

That's a performance drop of 2.6% over 21 months if you take the average loan ages (6 months to 27 months). I can see why the chart starts at 3 months, as no loan can be charged off until the payments are at least 90 days late. I'm not quite sure why the chart ends only at 30 months though, not 36 months, as I think the numbers would drop even further. (As an aside, I know than some investors basically try to sell their loans on the secondary market at full expected value after 12 months or so to maximize returns. If you could find buyers at that price, that might not be a bad strategy.)
A historical 7.2% median annualized return is still pretty solid. For a rough approximation, here are the returns of some corporate junk bond funds, probably the closest publicly-traded asset class available. Per Morningstar as of 4/14/2015, the 3-year trailing total return of the Barclays High Yield Bond ETF (JNK) was 6.67%. As of 4/14/2015, the 3-year trailing total return of the Vanguard High-Yield Corporate Bond Fund (VWEHX) was 7.21%. Given that the timeframes don't match up perfectly, I would only go as far as saying that the return figures are in the same ballpark.
It is worth noting though that the mutual funds offer the same broad diversification for everyone, whereas an individual investor at LendingClub has more scatter in returns (either higher or lower than average). As for me, apparently I'm below the 10th percentile myself with my 4.3% annualized returns. Arrgh!