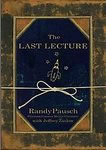 The late Randy Pausch became well known as a Carnegie Mellon professor who made a inspirational "last lecture" called Achieving Your Childhood Dreams (over 14 million views) after his diagnosis with pancreatic cancer. He later then wrote a book called The Last Lecture with Jeffrey Zaslow. As a former bestseller, you can now find copies on the cheap. It is a short and worthwhile motivational read. All the quotes are from the book.
Legacy
Time is all you have. And you may find one day that you have less than you think.
One of the things I think about a lot more these days is legacy. As a human, I think most of us have a desire to outwit our own mortality.
What wisdom would we impart to the world if we knew it was our last chance? If we had to vanish tomorrow, what would we want as our legacy?
I think children help fulfill that need, as they allow a chance for a part of us to live on forever. For him, the Last Lecture itself was a legacy project for his family so that his young kids would know him better when they grew up. He also talked about his professional legacy:
Now a computer science professor at Washington University in St. Louis, Caitlin (oops, I mean, Dr. Kelleher) is developing new systems that revolutionize how young girls get their first programming experiences. […] (You can keep tabs on their progress at www.alice.org.) Through Alice, millions of kids are going to have incredible fun while learning something hard. They'll develop skills that could help them achieve their dreams. If I have to die, I am comforted by having Alice as a professional legacy
So his legacy projects were three things: his family itself, something for his family, and something to leave the world a better place. I think this is good framework for creating my own legacy.
Achieving Goals
Now how did he achieve those childhood dreams, as well as his legacy goals? More or less it was just hard work and persistence. What stood out to me was the idea that some things should be hard to achieve, and if you get it anyway you should be proud of it. Time spent complaining is time wasted.
The brick walls are there for a reason. They're not there to keep us out. The brick walls are there to give us a chance to show how badly we want something.
…The brick walls are there to stop the people who don't want it badly enough. They're there to stop the other people.
Gratitude
Pausch didn't get there on his own, even with all the hard work. He showed gratitude to his parents, his wife, the professor that got him into grad school after he was rejected, his kids, and many other colleagues.