I've written about Kiva before, but since I loaned some more money out today I thought I'd bring it up again. Kiva.org allows individuals to make loans starting at $25 to low-income entrepreneurs in the developing world, also known as microcredit. By doing so, you can provide affordable working capital for the poor (money to buy a sewing machine, livestock, etc.), empowering them to earn their way out of poverty.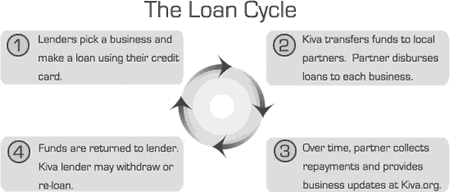 So far I've lent money to people in Samoa, Ecuador, Ukraine, and Azerbaijan. Now, even though I'm not earning any interest on the money I loan out, I've read that the borrowers do pay interest on the order of 10% or more. However, these rates are still much better than their alternatives from loan sharks, and the interest goes to fund the local operations. You can view the interest "lost" as charity if you'd like. I kind of just see it as lending money to a friend – no interest, but you're hoping to create some positive change. Payments are handled through PayPal, and they have a 100% repayment rate so far.

Here's my favorite loan so far:
Vitolina owns a set of beach fales that she rents out to back-packers or picnickers passing through the village and works hard to keep the structures in good condition. Fales are simple, small open huts with thatched roofs built in the style of the traditional Samoan house. Vitolina?s fales are situated on a white sandy beach on the Samoan coast. She readily welcomes guests and provides them with a simple roof, unbeatable views, and home-cooked meals. She will use the loan to renovate the beach fales.
I would certainly pay for that! Now imagine that she makes a profit, builds more huts, and hires other Samoans as employees. She's now making a self-sustaining living for herself and several other people. I get my money back, and can lend it out again somewhere else across the globe. Beautiful.