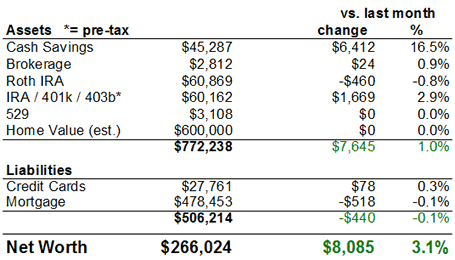 Credit Card Debt
If you're a new reader, let me start out as usual by explaining the credit card debt. I'm actually taking money from 0% APR balance transfer offers and instead of spending it, I am placing it in high-yield savings accounts that actually earn me 4% interest or more, and keeping the difference as profit. Along with other deals that I blog about, this helps me earn extra side income of thousands of dollars a year. Recently I put together a series of step-by-step posts on how I do this. Please check it out first if you have any questions. This is why, although I have the ability to pay the credit card balances off, I choose not to.
Retirement and Brokerage accounts
It seems like the markets were relatively idle over the last month. We made $2,141 in pre-tax 403(b) contributions. Not much else to report here, although our 403(b) plan did announce some new lower-cost fund choices for later this year, which is nice. I should do another portfolio update soon.
Cash Savings and Emergency Funds
Our mid-term goal is still to have $30,000 in net cash put aside for emergencies, which is 6 months x $5,000 per month in estimated expenses if both of us find ourselves unemployed. We are now a bit over halfway there at at $17,526. This fits in with our overall "just-in-case" focus for this month, hopefully we will also be getting some life insurance soon.
Home Equity
Another $500 of loan principal paid off. Housing values look to continue to be dropping a bit in our neighborhood, although nothing is really selling so it's hard to tell. I'm definitely aware of this, but I'm still not going to try and re-value my house every month. I've found that Cyberhomes.com offers some good data on tracking median prices by zip code. Again, can be tricky to apply if only a few houses sell in your zip code and they aren't really comparable in size or neighborhood.
Overall, a relatively quiet month financially. You can see our previous net worth updates here.
(By the way, my post yesterday on emergency planning was messed up due to some typos which cut out some parts, you can re-read it if you'd like.)