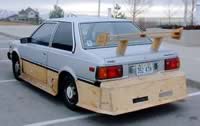 I like the idea of driving old cars into the ground, but sooner or later there must be a tipping point where the cost of upkeep outweighs the slow depreciation. I just can't tell if it's time yet. You always see a lot of used cars with ads like "Runs great. New tires, new radiator, new brakes, new…" and you think to yourself "If all that stuff is new and it runs fine, then why are they selling it?" My theory is that the tipping point has been reached.
Here are the stats on my car. It's a 1995 Nissan, so it's almost 13 years old now. 93,000 miles, and I've had it since 2000. It's actually run almost perfectly for the first half-decade of ownership. But in the past couple of years, I have had to replace the starter, the alternator, and one of the motors for one of my power windows. Just last week, the other window motor stopped working. I don't want to spend another $300-$400 to fix it, so I'm just going to screw it into place with the help of my father-in-law. (The original title of this post was "I have duct tape on my car – Time to dump it?") The brake pads are pretty worn, one of the boots of the CV joint has a hole in it and the mechanic recommended replacing the whole joint ($$$).
Should I starting considering dumping this trusty car and look for another one that will give me another 5-8 years of smooth running? Maybe I'm being biased by my interest in a $5,000 fun car… Perhaps it is more economical to keep patching it up?
(The picture shown is of a '83 Nissan, which provides a view of what I could be driving in another 12 years… Check out that sweet body kit 🙂 )