This is a interview/guest post with blog reader Ariel Hoffman, who recently spent a year traveling around Asia with his girlfriend Michal with a combined budget of only $10,000 – and managed to come back with $3,500 of it! I love to read nonfiction travel essays, so not only are there some great frugal travel tips below, it was also very exciting to read about their adventures. Thanks again for sharing, Ariel!
What was your inspiration to go on this adventure?
In Israel, it is mandatory to serve in the armed forces for at least 3 years. After that you just want to get away, and Asia is the perfect destination for someone who's just saved up 3 years worth of the army's 100$-a-month salary. Also, Israel's a pretty small country, so there isn't much domestic travel to be had like there is in the US.
The itinerary my girlfriend (Michal) and I came up with was mostly about avoiding the rainy season, and minimizing air travel. Air travel is expensive and boring, and you try to avoid it if you have a lot of time to spend.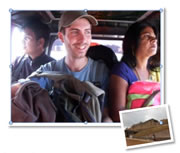 How did you come up with your budget? Did it end up costing more or less than you thought?
We sat down and did some serious homework, mostly on websites like lonelyplanet.com and their forums. The budget they offered sounded ridiculously low, so we nearly doubled everything we read about, and came up with a rough estimate of about 10,000$ for the two of us, for the entire year.
What we realized, however, is that not only were the estimates online pretty accurate, but also that two people don't spend exactly twice as much as one – lots of things are shared (such as meals, transportation, hotel rooms etc.) and so it's more like budgeting for a person and a half rather than two.
We were very pleasantly surprised when we came back home to count our remaining traveler's cheques and see we still have about 3,500$ left over for next time!
How did you fund it? Did you save up the cash upfront, borrow some money, work while on the trip, or some other combination?
In preparation for our trip, we both took on extra work and saved up every Shekel we made. It took us about 5 months. Once we reached our goal of 10,000$, we exchanged all our cash into traveler's cheques – a great way to keep your money both liquid and safe when abroad. Luckily for us, the exchange rates were in our favor the whole time, which gave our savings an extra 2%-5% throughout the journey.
Walk us through a typical day on your Year in Asia trip.
Most days would begin with trying to find breakfast – not always an easy task. Most Asian countries do not serve what we would consider breakfast, especially my vegetarian Michal. Although chicken porridge and spicy rice is very nice, it's not everyone's idea of the right way to start your day. After eating some novel type of cookie in spiced tea, we would set off to whatever National Monument/UNESCO World Heritage Site/Giant Temple/Yearly Festival was in the town on that day. After a day's tour of the attraction we would start hunting for a suitable lunch, which meant looking around for a street stall with a good crowd, or a local restaurant with a queue. Nothing says fresh like a long line of customers, and Asian vendors normally close their stalls every day when they've exhausted all their stock, so food is never kept overnight and doesn't have time to spoil. Another plus is that the food is not made of pre-cut ingredients, which makes preparation slower, but at least you see exactly what you're getting so there are no surprises.
Evening was normally a time for sitting on the beach, going to some performance or sitting in some tea-shop with friends. For a while we had a small kitchen in our room, so I would cook dinner for us while Michal practiced yoga. In China we bought a Wii, and at night we'd plug it in and invite friends over for kart racing – it's OK to enjoy modern fun even when on the road!
We spent a lot of time on trains and buses, getting from A to B. Sometimes as long as 27 hours! Israel's longest train ride is only 4 hours long.
What are some basic money-saving tips you might offer us readers?

One idea is to stay aware of your budget, even when you're on vacation. We met too many people who weren't keeping track of their spending, and that's a surefire way of going overboard. Michal and I calculated a daily projected budget (not including things already paid for like insurance or flights), and every day we'd sit and go over all our purchases and write down in our diary how much over- or under-budget we were. It was a fun way to remind ourselves of everything we were doing, as well as a great way to keep track. Also, we were able to go wild sometimes, knowing exactly how much surplus we had on our budget.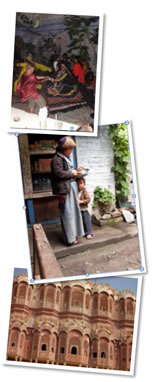 Another thing to think about is that almost everything you do is a compromise between time and money. The more "guided" or "organized" your trip is, the less time you spend on questions like "what do you want to do today?", "where to go next?" and "how many hours is the train going to be late today?". On the other hand, the more you rely on other people to make arrangements for you, the more money you'll spend. For example, we went to many national parks around Nepal without a tour agency. Although it took us 3 days to see what most people saw in only 2, we did spend about half of what the tours were charging for the same itinerary. So almost every decision you make – to walk or to take a rickshaw, to search for another hotel or to stay in the one you're next to – all have to do with finding your budget's "sweet spot" between spending more time or more money. Feel OK about spending more to save time every now and then, but try and keep it balanced.
Another thing to remember, is that in Asia prices are much more negotiable. In the US it's possible to bargain, but most consumers just shop around until they find someone who makes them a good offer without any haggling at all. Not so in Asia – finding a good price is normally a combination of guessing the worth of some item (based on experience, the average wage in that country etc.) asking around for a few baseline price offers (preferably in places where you don't really intend to buy it) and then haggling with someone to fine tune the price. It's a huge waste of time, but it's the way business work in that part of the world. Some people shy away from this, saying it doesn't really matter (what's a dollar more here and there?), and that they'd rather just pay whatever they're asked, but it adds up to a very big difference, AND it's the socially accepable thing to do. Just remember – always go for a lower price than you'd be willing to pay, so you can go up later and let the seller feel respected. If they say 300, don't feel wrong offering 25. You can always go up to 50 later. Also, never underestimate the power of walking away! You can always come back to a store and resume negotiations from the same point – and you'll probably be stopped with a better deal on the way out.
Not everyone is honest in Asia. A lot of people tried to cheat us: from simple cons like overcharging us for our bus fare, to impostors trying to sell us phony jewelery or their "original" artwork. A lot of common sense is needed, as well as the "hutzpa" to ask other people for help. Don't feel bad looking to see what other people are paying for the same item you're buying! Learning the numbers (in speech as well as in writing) of the local language is unbelievably helpful, and it changes people's attitude towards you as well.
An international student card was a big help. ISIC cards are pretty cheap (you can even get fake ones made in Thailand in under an hour if you lose the original) and around China mostly they proved worth considerably more than their weight in gold. They're light.
Try roughing it out sometimes. We found that the "hard sleeper" trains in China were actually perfectly good for our needs, and that sleeping in the air conditioned train in India was too cold and boring – in the "normal" berths you meet so many interesting characters!
What are some non-financial travel tips you might offer us?
Follow Nike's advice: Just Do It! Try things, eat things, talk to people, experiences strange religious ceremonies. It's the reason to travel, isn't it?
Don't worry! Almost every place we went to had everything we needed, and if we were in trouble people always helped out. You won't get stranded, lost or murdered in Asia. You won't starve, be bored or get lonely. Just keep your wits about you, and your money well hidden, and all the rest will fall into place. Really, it will. (Although travel insurance isn't a bad idea.)
Take classes – learn to play the sitar, cook Thai food, make silver jewelery, surf. Using a skill you've learned abroad is twice as fun.
Try to represent your country as an exemplary tourist – respect other people's beliefs and customs, no matter how infuriating they may be.
Don't worry too much about planning your trip. Although knowing your general route is a good idea, it's surprising little villages that you get to on the way to somewhere else that are the real attraction in world travel. Leaving extra time in case you want to linger longer or take a detour is essential.
Try to be ecologically conscious during your trip. Minimize the use of plastic, dispose of waste properly, and try to forgo flying.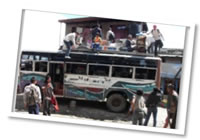 What are some "controversial" ways to save money that you tried?
We hitchhiked quite a bit. It's a good way to get around and meet people, but it can also be dangerous. Most of the time, especially if you're traveling as a couple, it's quite alright.
I had used couchsurfing.org to find places where people would put me up for a few nights in a spare room (or the living-room floor!). This not only saves on money and time – finding the right hotel requires both – but you also see the way locals live in a much more intimate way. It's amazing how many great families will open their hearts and homes to a complete stranger. We have decided to keep an extra room in our new flat in Kiryat Shmone, Israel, for any couchsurfers who might want to visit.
I slept a few times in my tent, which I bought in Thailand. If you're in a really expensive country (such as Macau) for only one night, opening a tent on the beach can be very romantic. It works in airports, too! If you're not sure you'll make it to your morning flight, it's always an option.
What was the scariest moment on your trip?
The firsts were always the scariest. Our first day in Kathmandu, just getting off the plane and realizing it's a whole new world out there, was overwhelming. We ran away from all the sights, smells and sounds that attacked us from all sides into the first hotel we found, and went immediately to sleep although it was only late afternoon. The third world's quite a shock, even if you think you're prepared. You get used to it, though, but it takes time.
When we got off our first bus ride in Nepal we were on our knees thanking god for our very lives. It was a night-long ride on an overcrowded bus without headlights hurtling in complete darkness down winding cliffside roads, using its horn instead of its brakes. Oh, and did I mention, we were sitting ON THE ROOF?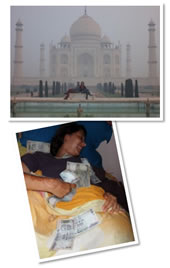 Our first night in India was scary, too. We'd just arrived to discover it's an eight-day holiday, with all banks closed and no available hotel rooms anywhere! We walked around Bihar, India's second-poorest state (and that's saying something!) without any money in the middle of the night, and to top it all there was a locust infestation so we were covered in bugs from head to toe. WE were rescued from sleeping in the train station (which had four dead beggars lying in one corner, covered in locusts) by an Indian priest! He took us home, cooked us some food and let us sleep in his bed until our train arrived.
What was the one place you'd want to most visit again? Why?
I feel like Bangkok is probably the place I'd like to visit again most. It's such a wold city, full of everything a tourist can want. From great markets where you can get lost all day to the best food on the planet. It's also such a great place to meet other tourists and share travel stories, and the Thai people are just so welcoming it's hard not to fall in love with their beautiful capital. It's a place worth revisiting, and often.
Anything else that you wanted to add?
Yes! I just want to say to everyone that thinks traveling is a waste of time, just because it's "unproductive", that they're flat wrong. Not many experiences can change your life and your personality as much as close contact with other peoples, lifestyles and opinions. It's so very important to get out of your comfort zone once in a while and see what else you can do, and if you're doing it already – do it on a grand scale. It's possible. It's affordable. It's the best fun you'll ever have.
Anybody else got a bit of wanderlust from reading all that? 🙂