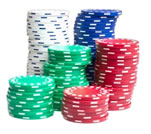 We are now 8 years in on the 10-year bet between Warren Buffett and a successful hedge fund manager. In 2007, Warren Buffett challenged any hedge fund to a long-term bet against the S&P 500. He found a taker.
Fortune magazine announced "Buffett's Big Bet", where $1,000,000 would go to the charity chosen by the winner. The bet would run from 2008 to 2018. Buffett would take the S&P 500, represented by the Vanguard S&P 500 index fund (Admiral shares). Protégé Partners would stand behind hedge funds, represented by the average return of five hand-picked hedge funds.
Carol Loomis has just posted the 2016 update in Fortune. The hedge funds made up a little bit of ground in 2015, but overall still lag significantly:
Last year (2015) the S&P 500 index fund went up 1.36%, but the hedge funds went up 1.7%.
Since inception (2008 through 2015), the S&P 500 index fund is up 66%. The hedge funds went up 22%. The performance gap is over 40%.
Here are the historical annual breakdowns: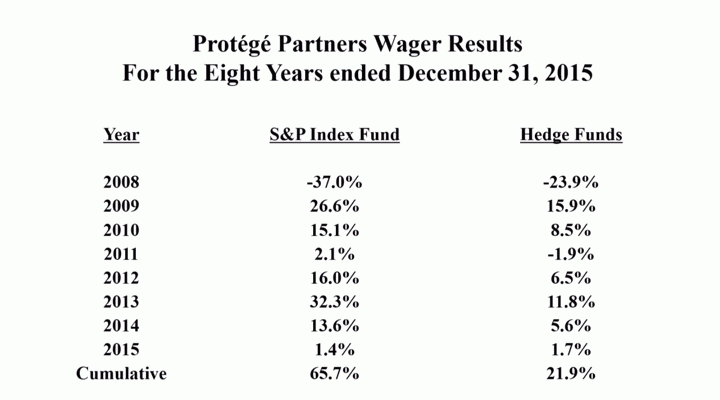 An important aspect of this bet is that we are comparing performance after fees. Hedge funds may employ some bright minds but also charge hefty fees of roughly 2% of assets annually + 20% of any gains. That is like running into a heavy and persistent headwind. Meanwhile, the Admiral shares of the Vanguard 500 Index Fund charge only a flat 0.05% annually.
Another important lesson that it is easy to point on good performance in retrospect. It is MUCH harder to pick out winning managers ahead of time (and harder on those managers when everyone is looking and there is too much money to deploy). At the start of the bet, the past performance of the hedge funds were excellent – from inception in July 2002 through the end of 2007, the Protégé fund gained 95% (after all fees), soundly beating the Vanguard S&P 500 index fund's 64%.
Finally, my last point is that it is hard to know when to drop a winning strategy gone sour. The handpicked hedge funds have some serious catching up to do. But there are two years left in the bet, so technically it is still anyone's game. If you were invested in these hedge funds, would you stick it out or cut your losses?
Read the full terms of the bet and each side's opening arguments at LongBets.org. See my original 2008 blog post and halfway 5-year update here.