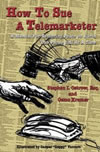 I've been getting an increasing number of telemarketing calls recently, so I readily agreed to a review copy of How To Sue a Telemarketer by Stephen Ostrow, lawyer and judge. I had a vague recollection that you can get $500 every time a telemarketer violates the Do No Call list, and was hoping there would be a quick form or template to fill out and slam these annoying folks. It turns out to be a bit more complicated than that, but the basic steps are outlined below.
Before you do anything else, you should confirm that your phone number is registered at the National Do-Not-Call Registry. While you can file a complaint at the same website, that doesn't have nearly the bite of a lawsuit with financial penalties.
Step 1: Data Collection
When an unsolicited telemarketer calls and you think they are in violation of the law, don't yell at them. In a conversational tone, try to extract as much of the following information as possible:
Name of telemarketer
Name of company
Company website
Company telephone number
Company address
What they are trying to sell you
Writing it all down is probably the most simply, having a recording is easier but you can't tape a telephone conversation without notice in many states. (Here's is a list of states with one-party consent.)
Step 2: Research and Lawsuit Initiation
Using this information, you can then research the legal names of either the company employing the telemarketer and/or the telemarketers themselves. Now you know who to sue. Next, you must file a complaint through your state's Small Claims Court. The form is relatively simple to fill out and some templates are included in the book.
Here's a list of potential violations of the Telephone Consumer Protection Act of 1991 (TCPA), each of which are separate. You can have been a victim of any one or a combination. Federal law allows for $500 per violation, which can be increased to $1,500 per violation if deemed" willful and intentional".
Violation of Do Not Call list.
Pre-recorded messages (robocalls)
Failure of solicitor to identify themselves.
Failure to send the company's Do-Not-Call policy within 30 days after demand.
Blocking a number on CallerID by a telephone solicitor
A third party must then serve the complaint to the defendant, usually via sheriff or process server. You'll also need to file a Proof of Service to show that the accused was served.
Step 3: Your Day in Small Claims Court
Now that you have filed the lawsuit and the defendant has been notified, a court date will be set and you'll actually face your defendant in court. The person who actually called you won't be there, just some representative. Some tips about how to present your case to the court are given, but basically you want to document all the details of the call. Since this is a civil court, you just need to prove that it happened more likely than not.
While searching online, I found another success story for suing rogue telemarketers. In his case, the telemarketer actually called him up before the court date and offered him $500 upfront to settle out of court. Nice.
The most depressing part of the book was the part where I found out what calls are not covered under the Act:
Calls from organizations with which you've established a business relationship
Call by, or on behalf of, tax-exempt non-profit organizations including political compaigns.
So if I get service from Comcast, they can still bug me. And I've already decided to vote against any politician who robocalls me. Grrr.
There are many more nuances in the book that aren't covered here. If you aren't turned off by required footwork above, then this book may be worth a read. It does try to keep a humorous edge to it, hopefully the energy will encourage you to follow through and get some justice.