While on my lunch break, I went over and bought some Series I Savings bonds, due to their high interest rates described here. Technically I had two more days until the 30th to get an April 2008 issue date, but I didn't want to cut it too close in case there were any problems. I was also fueled by the news that interest rates will probably dropped yet again soon by Bernanke and Co.
Here's how to do it:
1) Find a bank near you that sells paper savings bonds. Although the TreasuryDirect website says "any financial institution", not all banks participate. I asked a few smaller ones near work and they did not carry them. The big boys like Bank of America, Washington Mutual, Chase, or Wachovia should all have them. If you don't have one of these megabanks, just call the biggest banks in your region.
2) Either move funds into an account there, or bring cash. You can't write a check from another institution, because they need to have the funds immediately. Although I didn't try, a cashier's check should work, assuming the bank can simply turn that into cash. I just had them withdraw the funds out of my bank account.
3) Ask for the Series I Savings bonds order form. Don't be surprised if the teller looks confused, as this isn't a popular request. Have them ask a supervisor, it should be Form 5374. I had one left over, so here is a scan of what it should look like: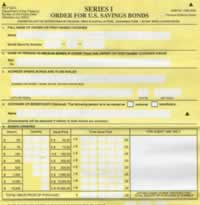 (Some larger banks may have an electronic process.)
Remember, the limit for paper bonds is $5,000 per Social Security number per year. So you can put down $5k for you and $5k for your spouse if you have one, and simply pay $10,000 by yourself. You may also wish to buy something like five $1,000 bonds instead of one $5,000 bond for ease of paper redemption.
The issue date of the savings bond will be the same day that the bank accepts payment. This date will be noted on the application, and the bank should also stamp it to confirm.
4) Wait. The forms says that processing will take 3 weeks, and then it will be mailed to you. You can have it sent to a P.O. Box if you have one, for more security. The processing time won't affect your interest earned because again as long as you paid in April it will be stamped as issued in April 2008. Also, you can't cash out until after 12 months, so there is no hurry.
How do I redeem them?
You can either convert these paper bonds to electronic format at TreasuryDirect and redeem online, or cash them in at the same place you bought them (or any other financial institution that sells them). The cool thing about electronic format is that you can do partial redemptions.