As the US stock market keeps going up, it feels like everyone is whispering the same thing: We are near a top. It's easiest to do this with numbers. Here's a valuation metric that divides the price of the S&P 500 stock index by the median US hourly wage. In other words, how many hours of work does it take to buy a unit of the S&P 500?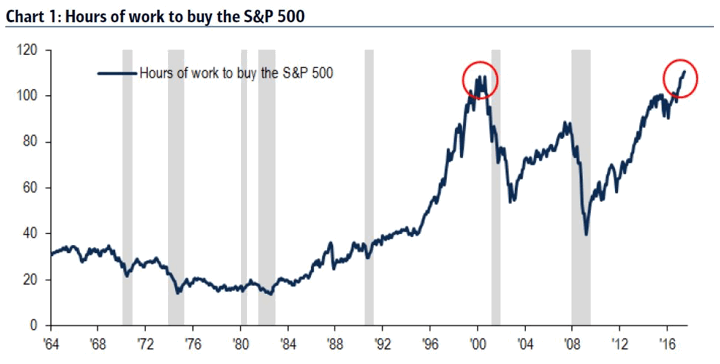 Answer: More hours of work than even at the top of the 2000 tech bubble. Found via WSJ Daily Shot newsletter and @ReutersJamie. Original source appears to be BAML (Bank America/Merrill Lynch).
This concerns me of course, but I'm still a buy-hold-and-rebalance investor at roughly 2/3rd stocks and 1/3rd bonds. Sure, we might be at the top. But we could be at new top next week. There are two only possible states: all-time high or drawdown. Here's a wise observation by @ClementsMoney:
The good news is, many investors are prepared for a stock market decline. The bad news is, they've been prepared since 2011.