In my last post on 2009 marginal tax rates, reader Alexandria (aka MonkeyMama) made a very good point that planning our retirements around future tax brackets is very difficult as they change all the time. But isn't that what we are forced to do every time we contribute to a IRA and/or 401k? We can either pay tax now (Roth), or pay tax later (Traditional). In any case, I figured I should look into this more.
I previously explored this area in my post about historical marginal tax rates vs. median income. There, I concluded that at my current high income level, my personal tax rates would probably go up in the future. Now why might I change my mind?
Total Federal Tax Rate vs. Income Group
More recently, the NY Times published the following graph that plots the total federal tax rate vs. income starting from the 1960s. Total federal tax rate includes income taxes and also things like payroll taxes and capital-gains taxes.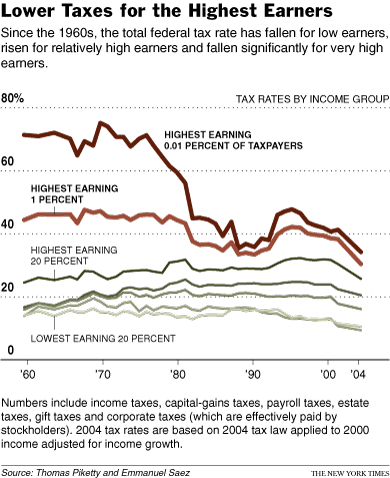 As you can see, tax rates as a whole have been dropping recently and are relatively low compared to the past. I would also note that the total tax rate at the median income group (middle 20% line) has varied very little over the last few decades, hovering around 18-20%.
Federal Income Taxes For Median Family
Next, here is a 2006 chart from the Center on Budget & Policy Priorities, which is based on Treasury Dept. data. The Center estimates that the median-income family of four will pay only 5.6 percent of its income in federal income taxes in 2006, the lowest since 1955.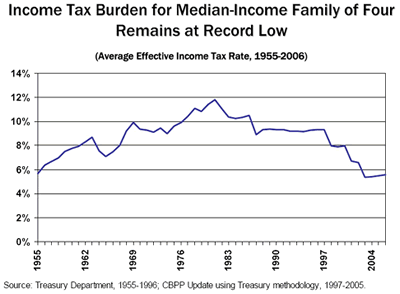 As you can see, the range for this median family has stayed between 6 and 12%.
My short take. Tax rates right now are historically low. Given this and all our future governmental obligations, they will most likely go higher. However, future tax hikes will probably be more heavily placed on high income earners as opposed to those earning at the median or below. The tax rate paid by the "middle class" tends to stay in a relatively low and narrow range.
Everyone's situation is different. Right now, we are earning in the top 5% or so. But in retirement, I think we can easily fit into this median group, especially if the mortgage is paid off. So even though the future is unknown, my bet is that our tax burden will decrease upon retirement.